Instead of letting cold weather put my hiking into hibernation, I decided to embrace the icy weather with an eye towards hiking all year round.  I saddled up with all my new winter gear and sped towards the trail head to make sure I got there before they close the road for the winter.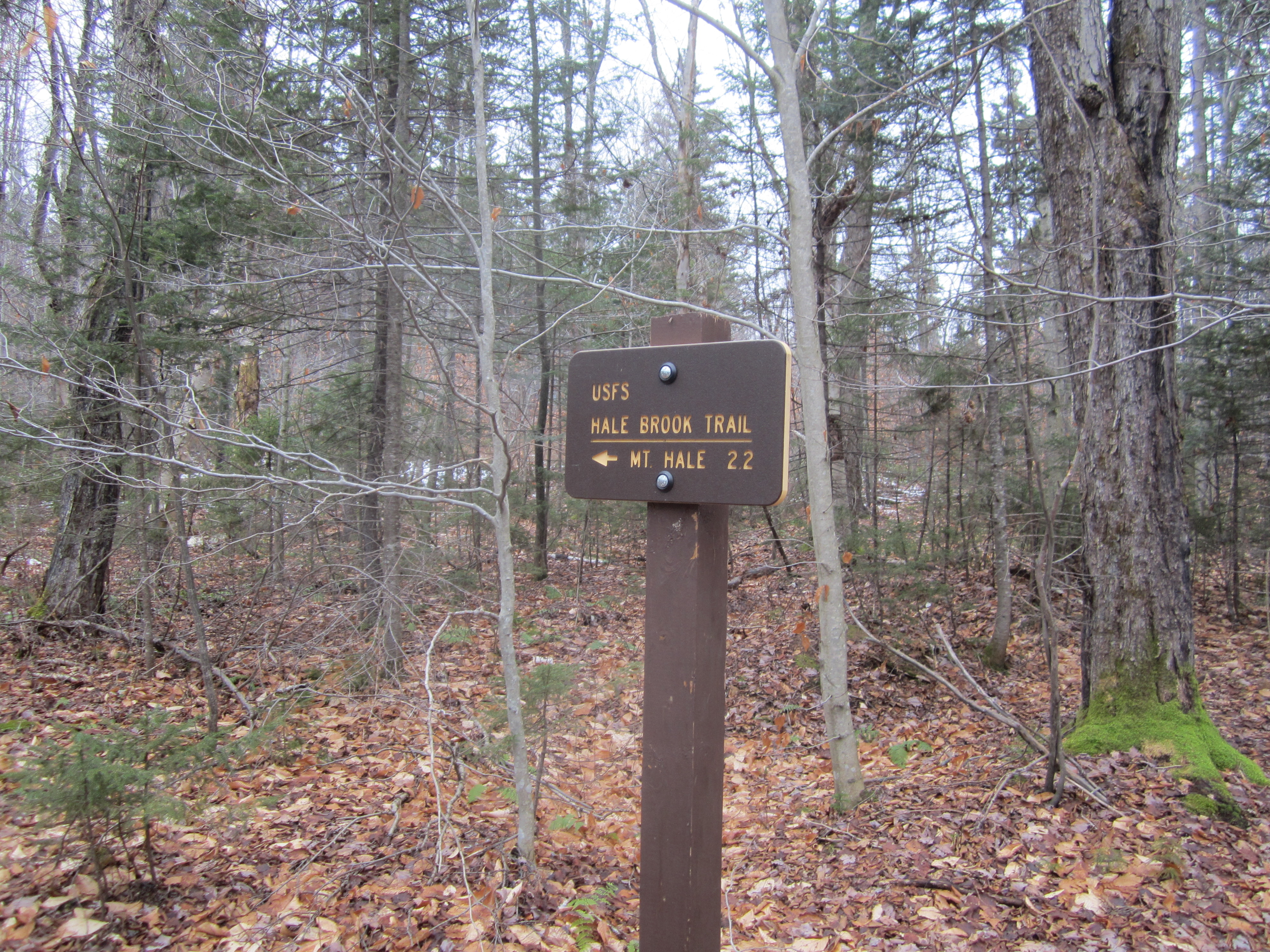 I had chosen Mount Hale since it was a short hike and would minimize the time I exposed myself to the elements.  I started off on the Hale Brook trail and there was a tantalizing mixture of snow and dead leaves with some mud thrown in everywhere I looked.  My body was a little angry with me for the cupcakes I had been loading up on the day before but I soon hit my stride and started climbing with a vengeance.  I was glad to "see" that because of the bare trees….I would be able to spot any bears a good distance off.  It then dawned on me that the bears were probably thinking the same thing and I quickly quickened my pace as I strove for the summit.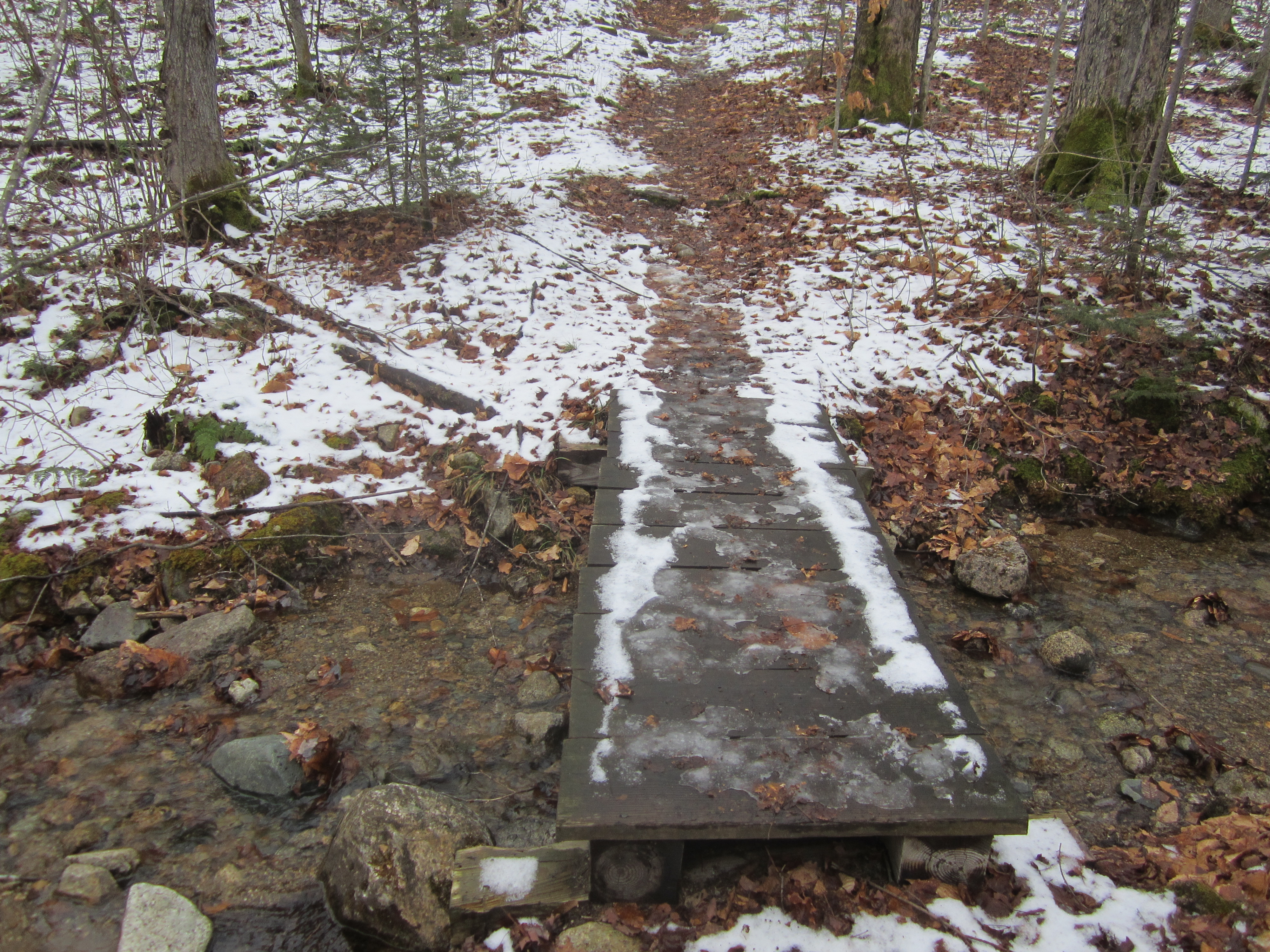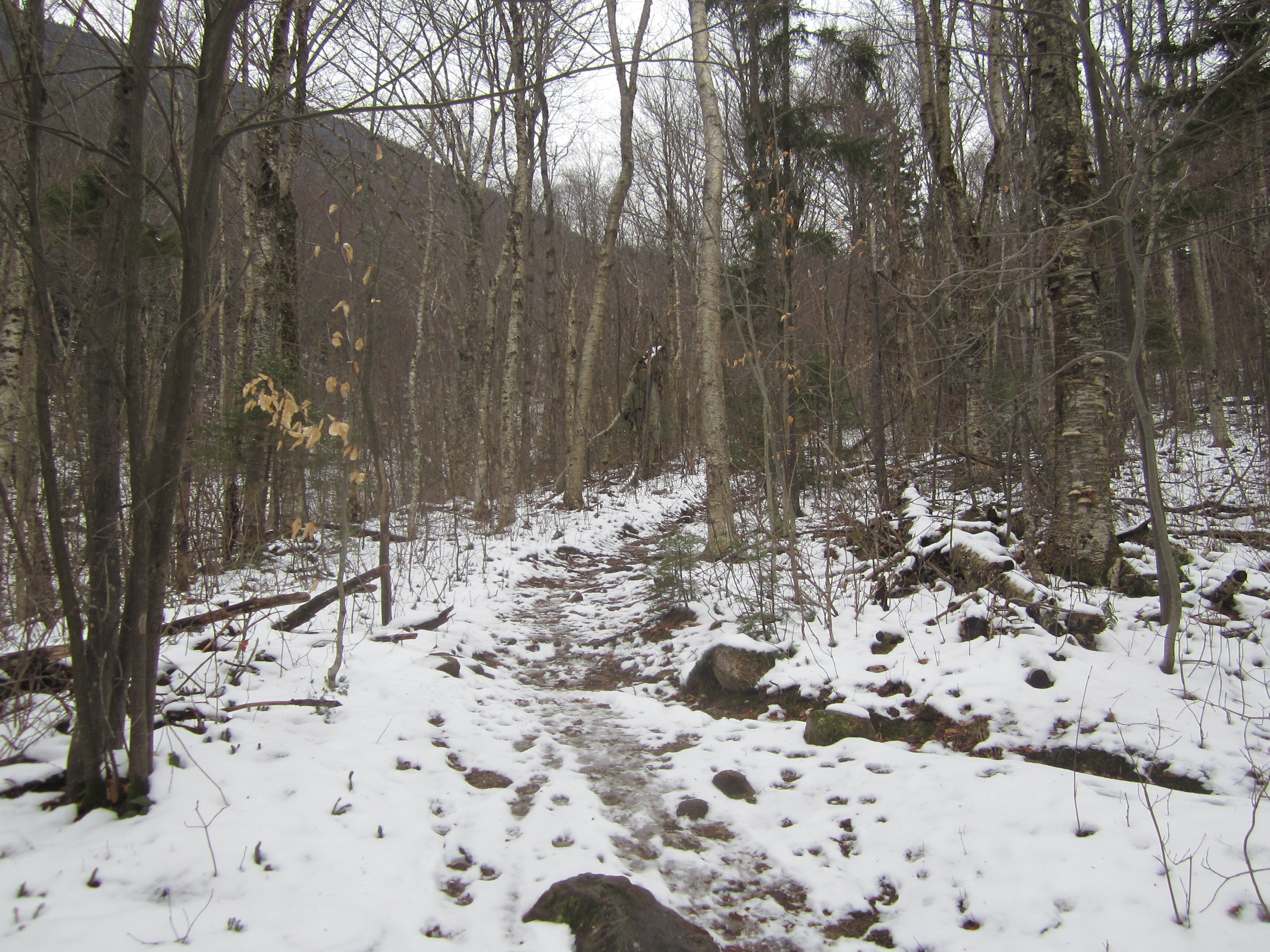 As time wore on and I wore down, it also started to dawn on me that I hadn't seen another hiker so far.  While it was nice and peaceful to have the whole mountain to myself, it did leave me a little unnerved that perhaps I should have brought a flare gun to signal my location in the event I got snow in my boots or some other wintery nightmare.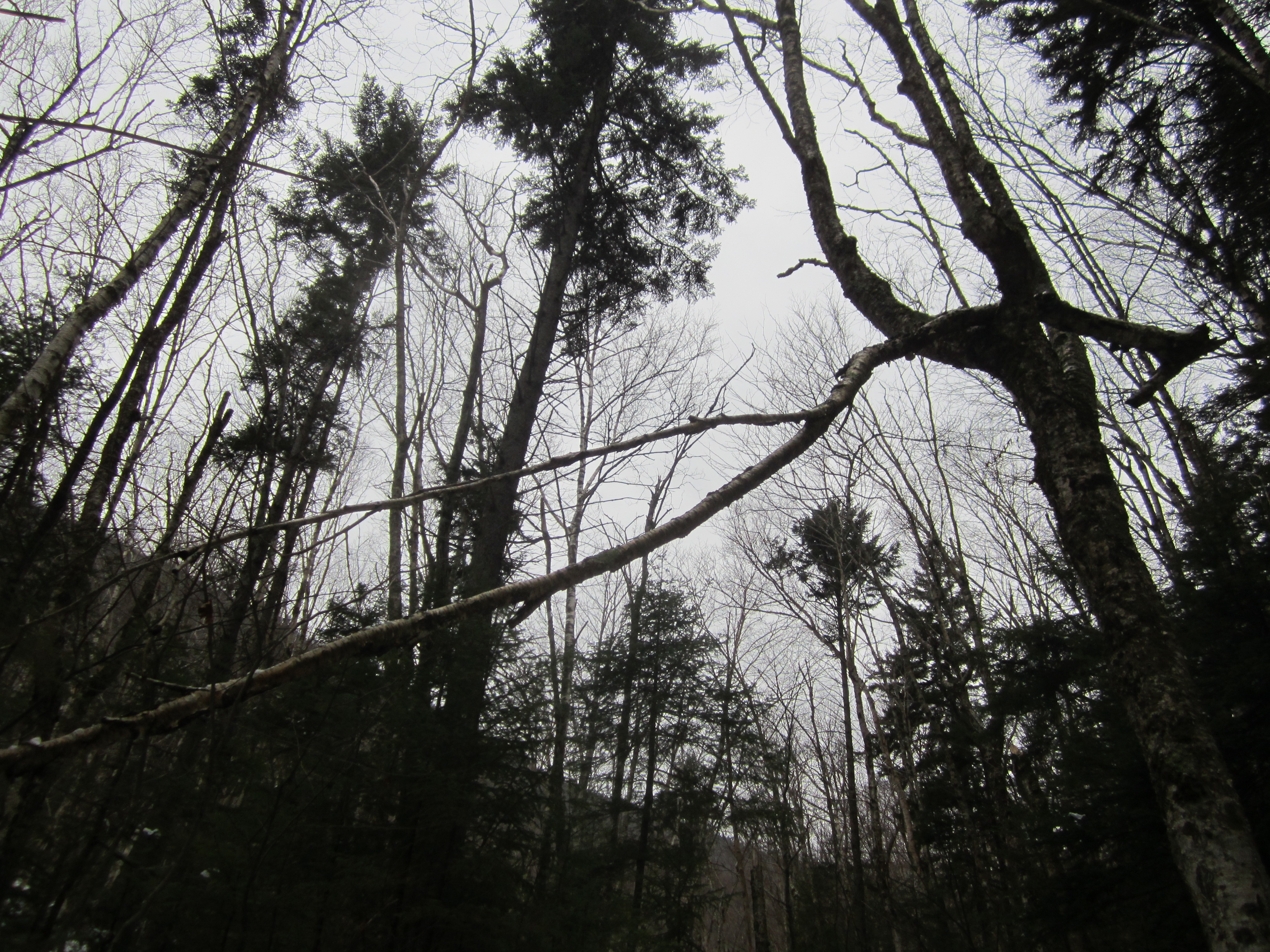 I was started to make good progress towards two things……the summit and freezing my buns off.  However, just as I was starting to feel the chill soaking into my bones, the forest sprung into life as the trees started flinging their melting snow at me from all sorts of angles and the temperature began to climb.  This was great news because all I had to worry about now was the inevitable avalanche.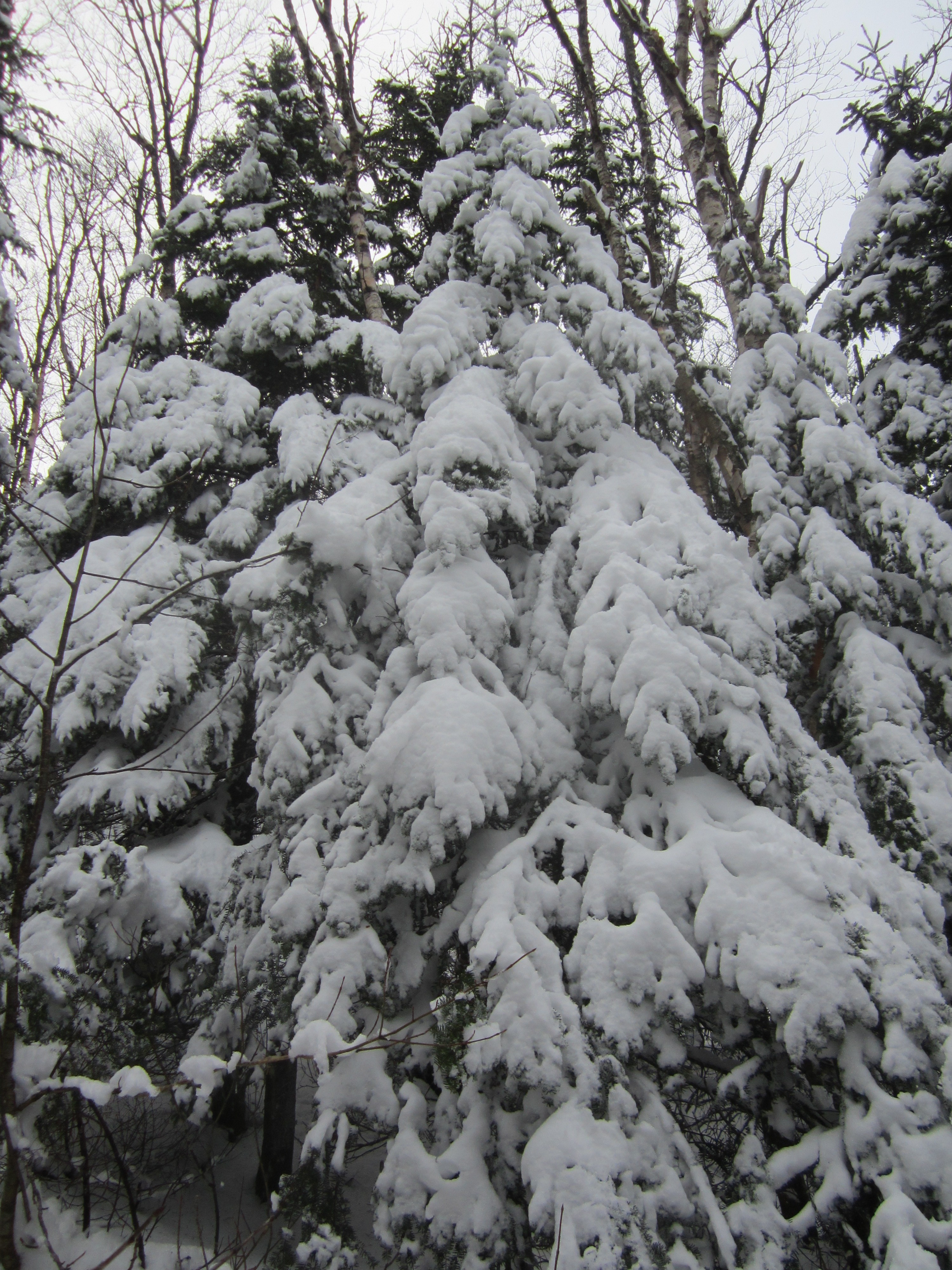 Things were really starting to heat up as I entered a surreal land that I shall not soon forget.  I found myself in a tunnel of trees also known as the trail that were hemorrhaging melted snow on me in a way that would make Niagara Falls jealous.  As I started to soak up this scene, I couldn't help breaking out in a delirious grin as some nice views started appearing through the trees while the sun broke free of the clouds.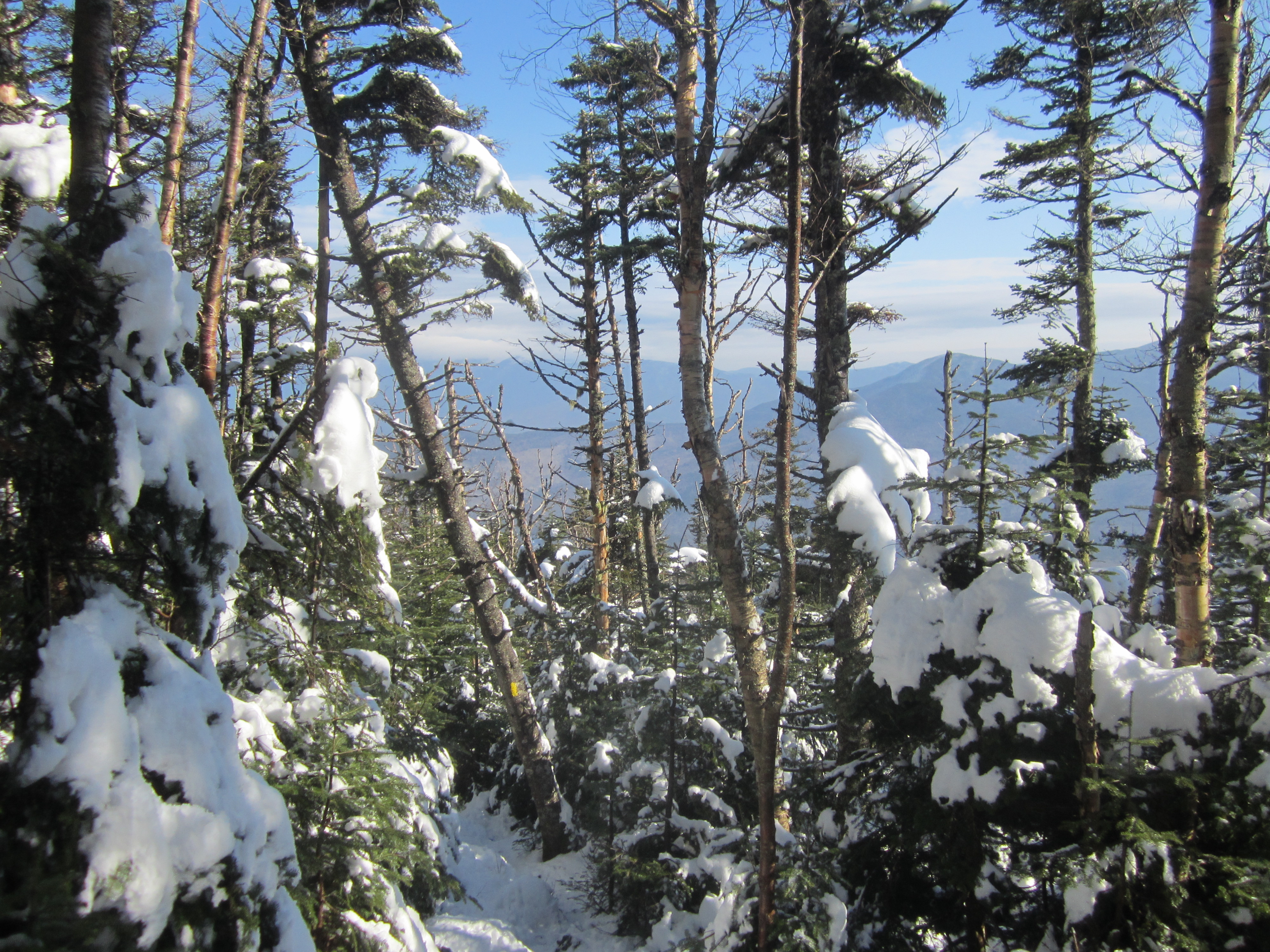 I soon staggered out of fantasy land as I broke through the trees and found myself in a circle of rock that meant I had found my way to the summit.  According to my handy White Mountain Hiking Guide(ding ding), there used to be some great views from the summit of Mount Hale when the trees were just young saplings, but that view is almost non existent now.  Apparently some people have had a tough time letting go since Mount Hale is also home to the solar systems largest cairn that allows a glimpse over the tree line at the top…..it also offers a broken bone to those daring enough to attempt the cairn climb.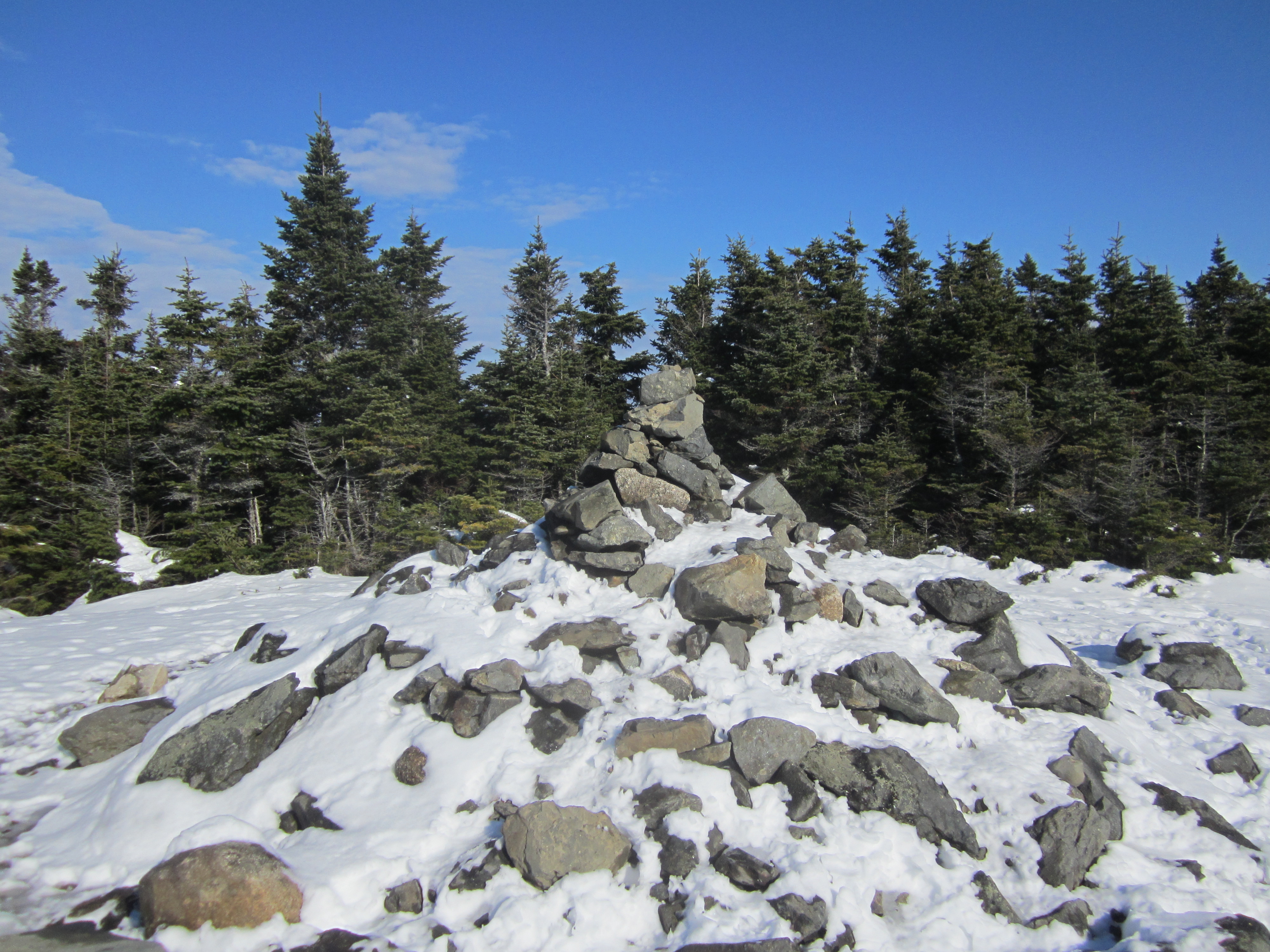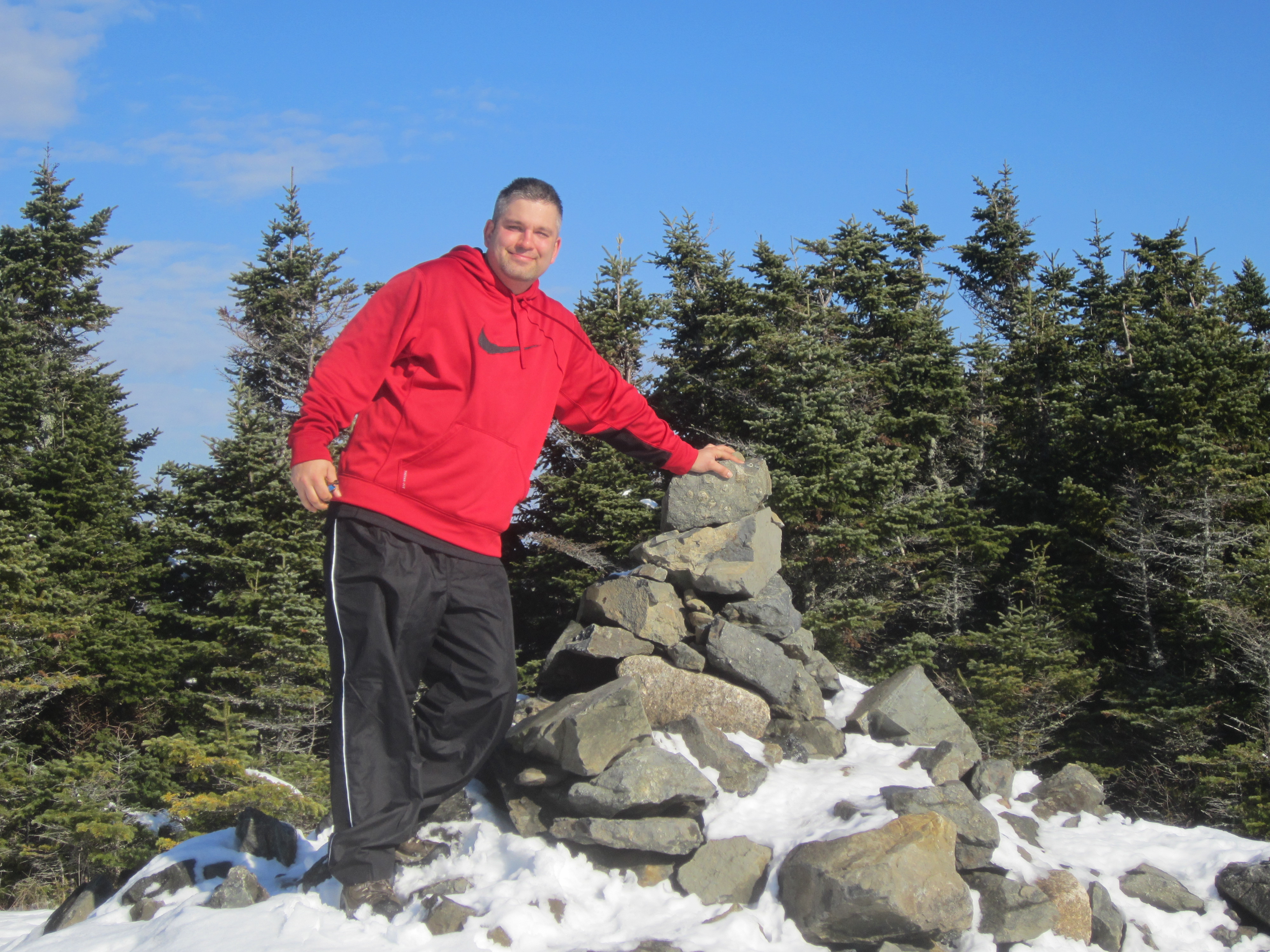 After meditating on an apple for lunch, I was joined at the top by some enormous crowds, as a pack of wild humans came crashing onto the summit.  I decided it was time to make a graceful exit. I  took my customary prop picture at the top of the cairn and then threw on my traction for the slippery climb down.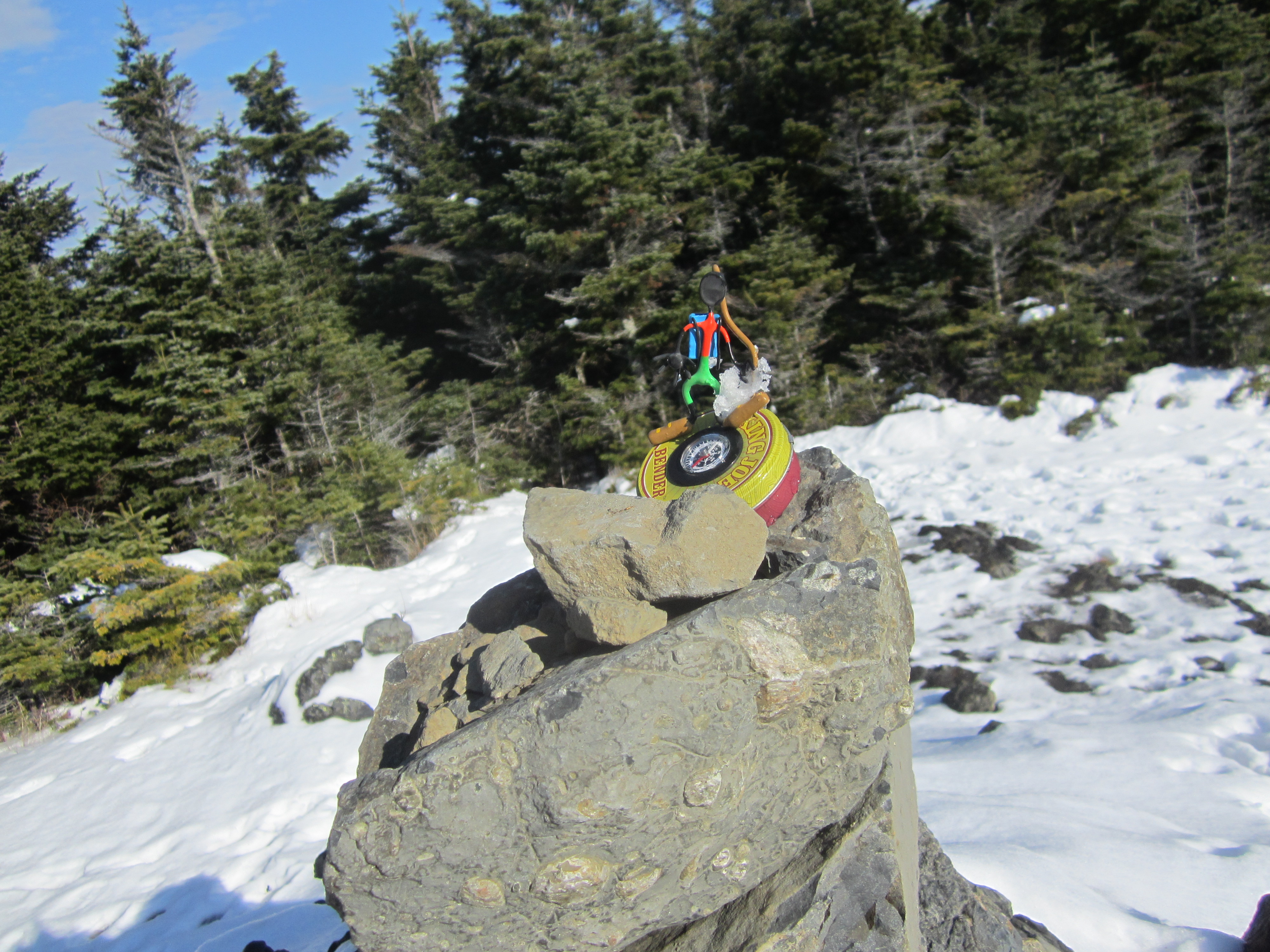 The added traction turned certain defeat to victory as I cruised down the mountain throwing all caution to the icy wind. I only saw a few stragglers coming up but I made sure to warn them about the tree water shenanigans ahead.  I made it down and realized I had beaten my ride so I plopped down in the parking lot and whipped out 2 apples to celebrate…..1 to eat and the other to check football scores on.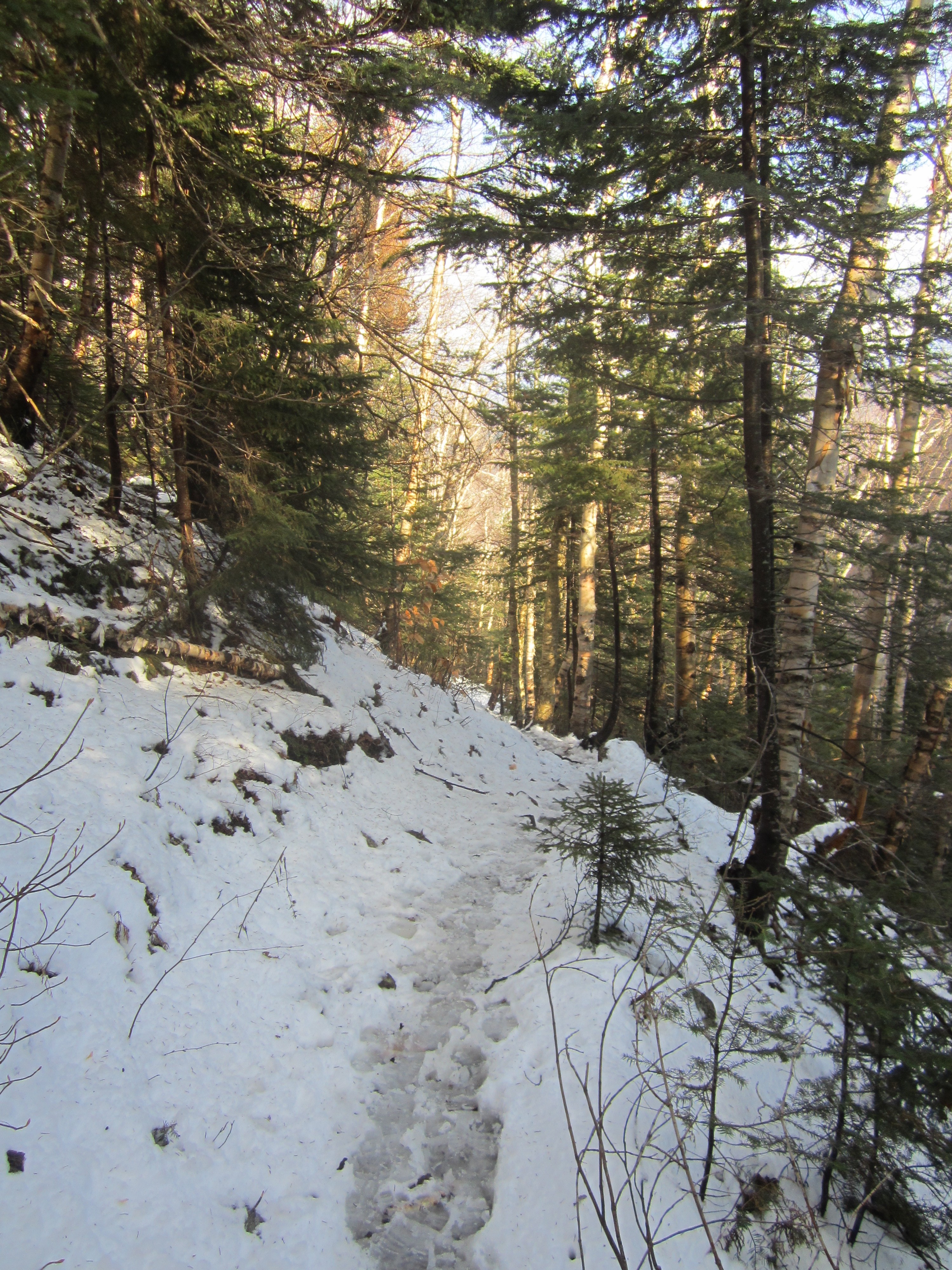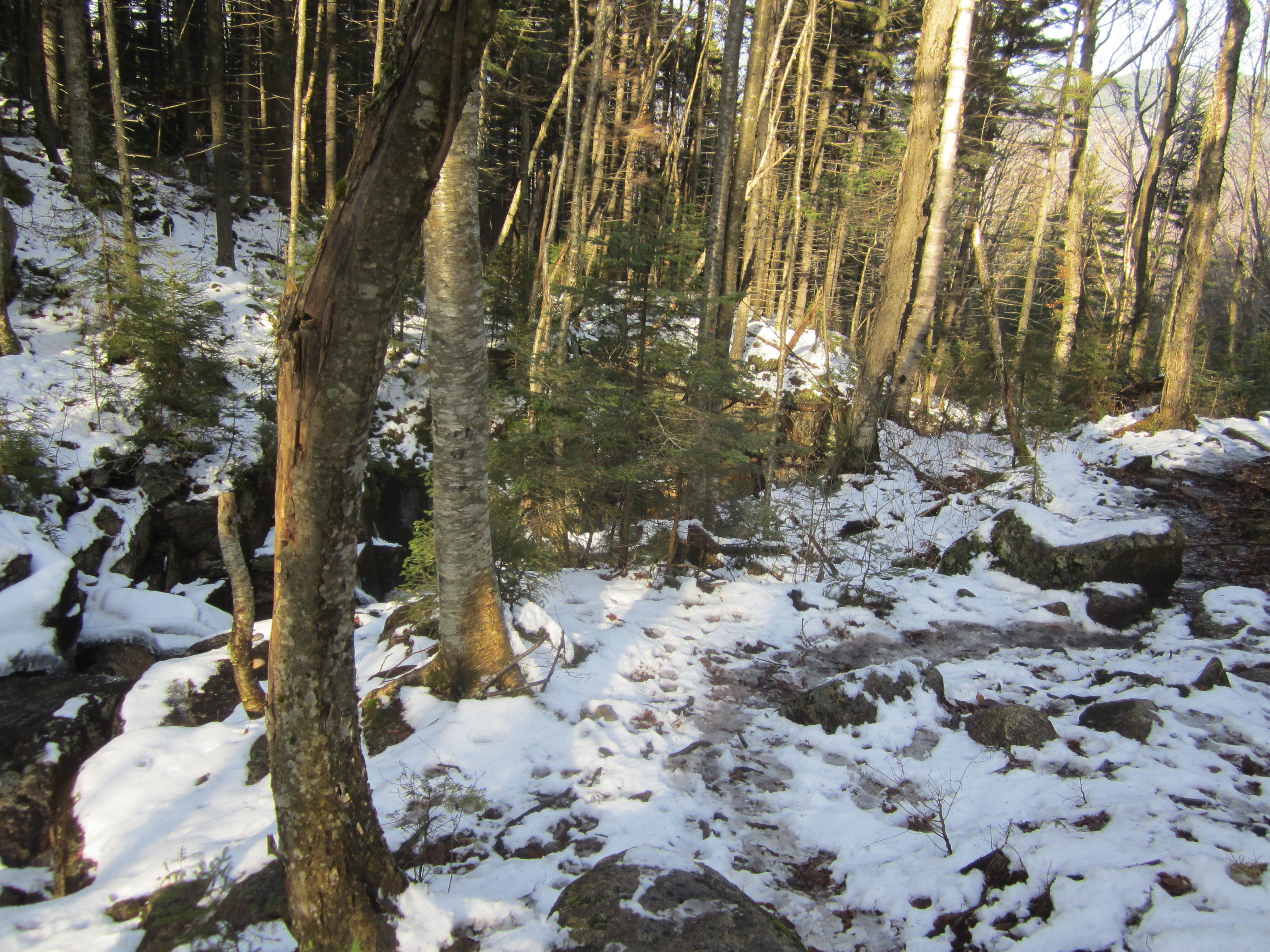 8 down, 40 to go!