After a quick breakfast, we checked out and then checked out old faithful for one last viewing before moving on.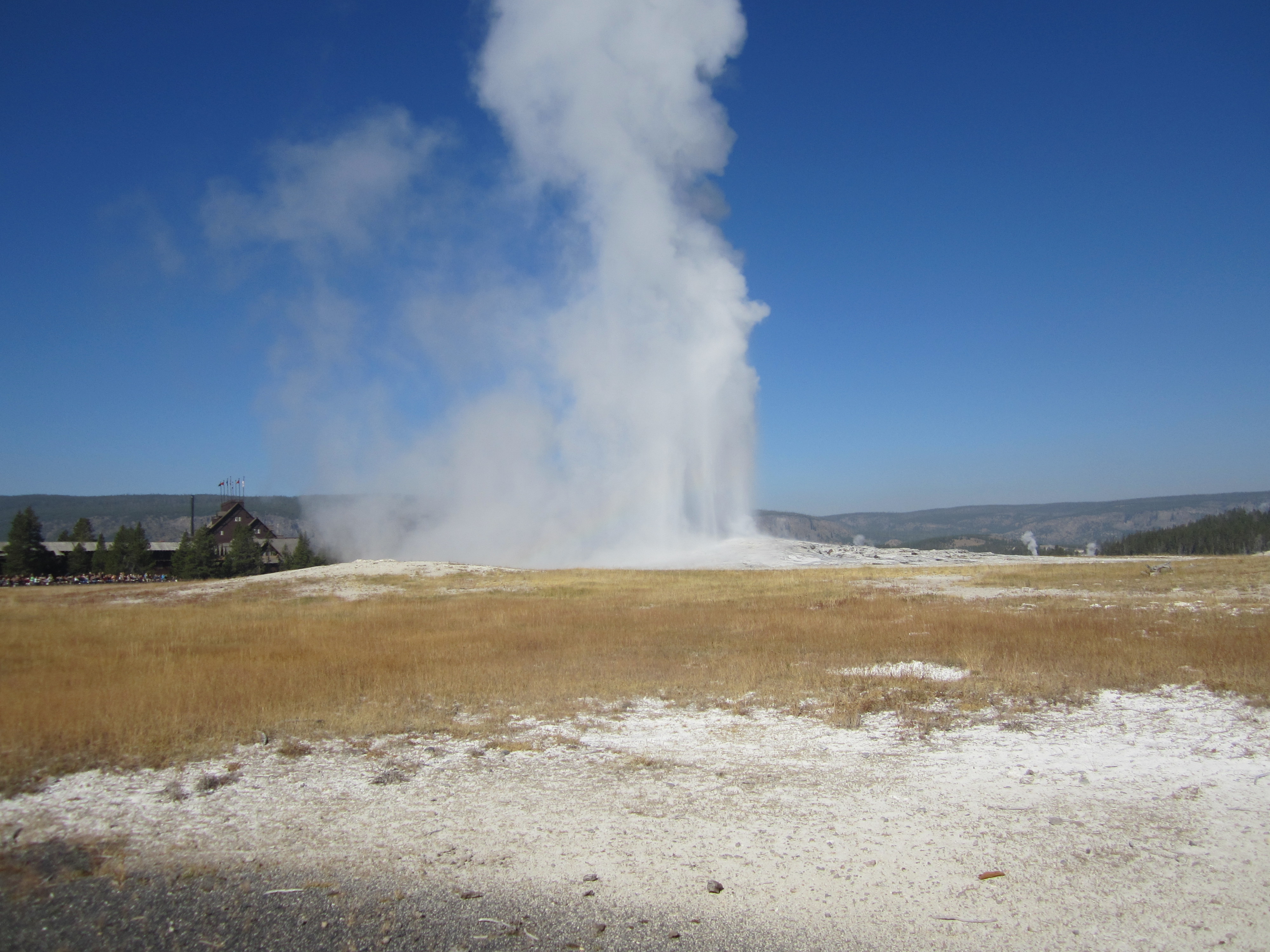 First stop of the day was the Keppler Cascades who were practically begging me to take their picture, so I went ahead and obliged since i'm both a gentleman and a photographer.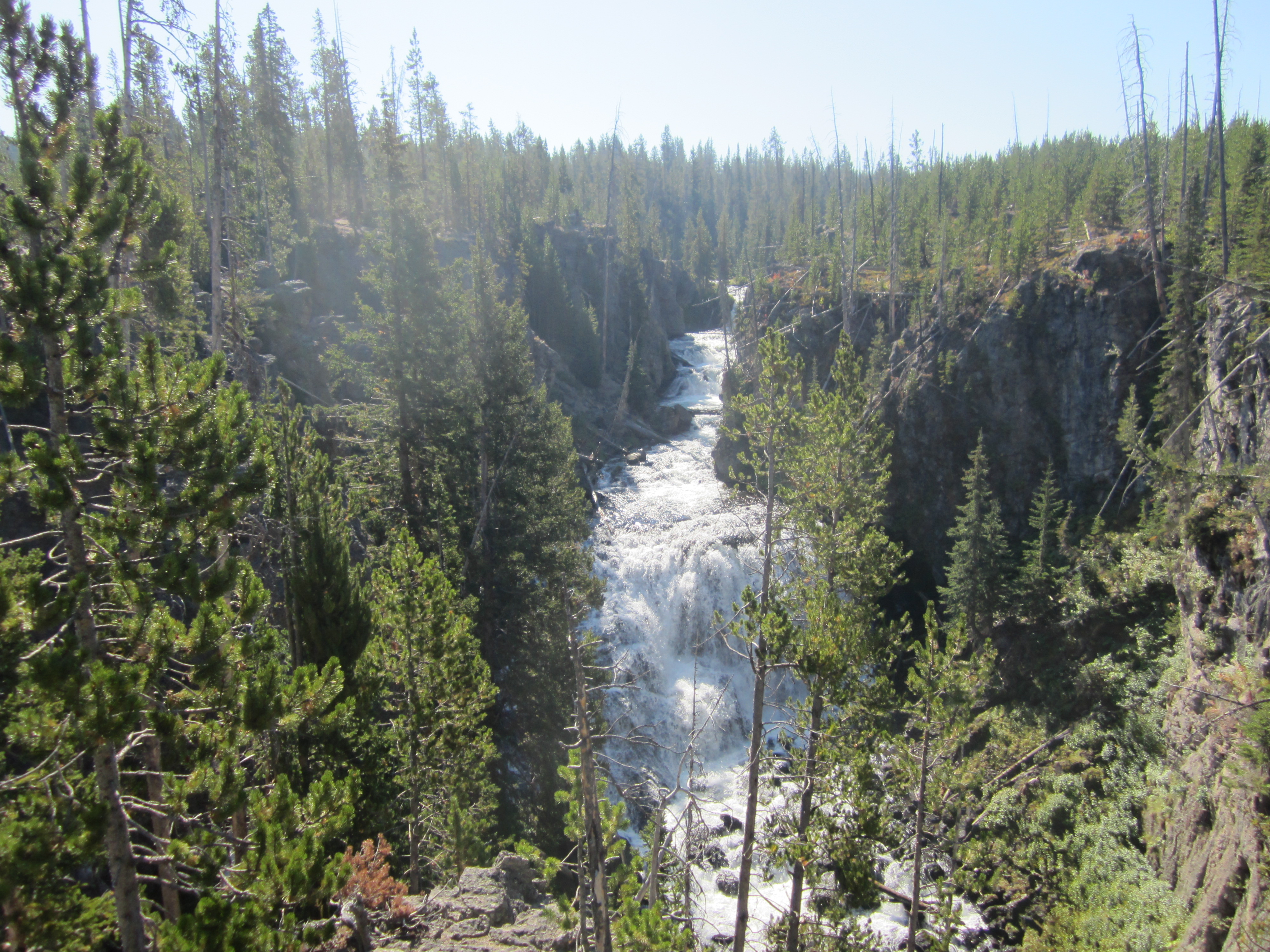 After snapping up a few pictures, I noticed on the map that we would be hitting the West Thumb area next and decided to get into the spirit by thumbing a ride there.  I started walking from Keppler Falls and soon heard a car coming so I turned and stuck my thumb out like any good hitch hiker would do.  I must have a friendly look to me because I was picked up by the first car which also ended up being the same car my traveling companions were driving….tis a small world after all I thought as I climbed in.
We came to a screeching stop in the West Thumb parking lot and made our way into the thumb for some more prime boiling water shenanigans.  As we moved into the area I noticed a large gathering of people ahead listening to a ranger so I gave the infiltration signal to my comrades and we quietly took up positions INSIDE the crowd.  We stayed with the group for most of our thumb viewing and learned a lot of interesting facts about geysers….I just don't remember what they were.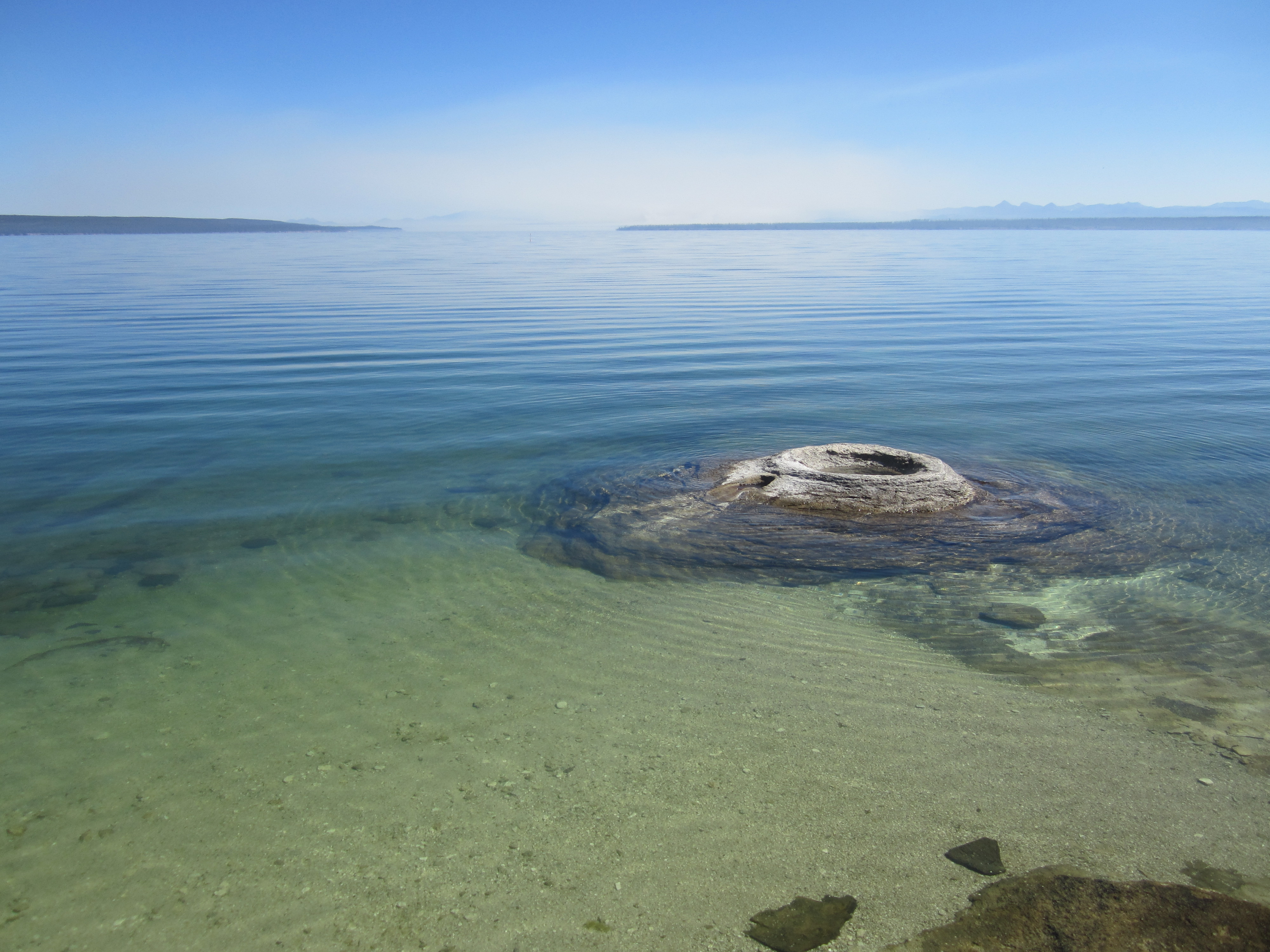 It was very easy to see just how dangerous the ground was because you could see the crust was only a couple inches thick off the boardwalk.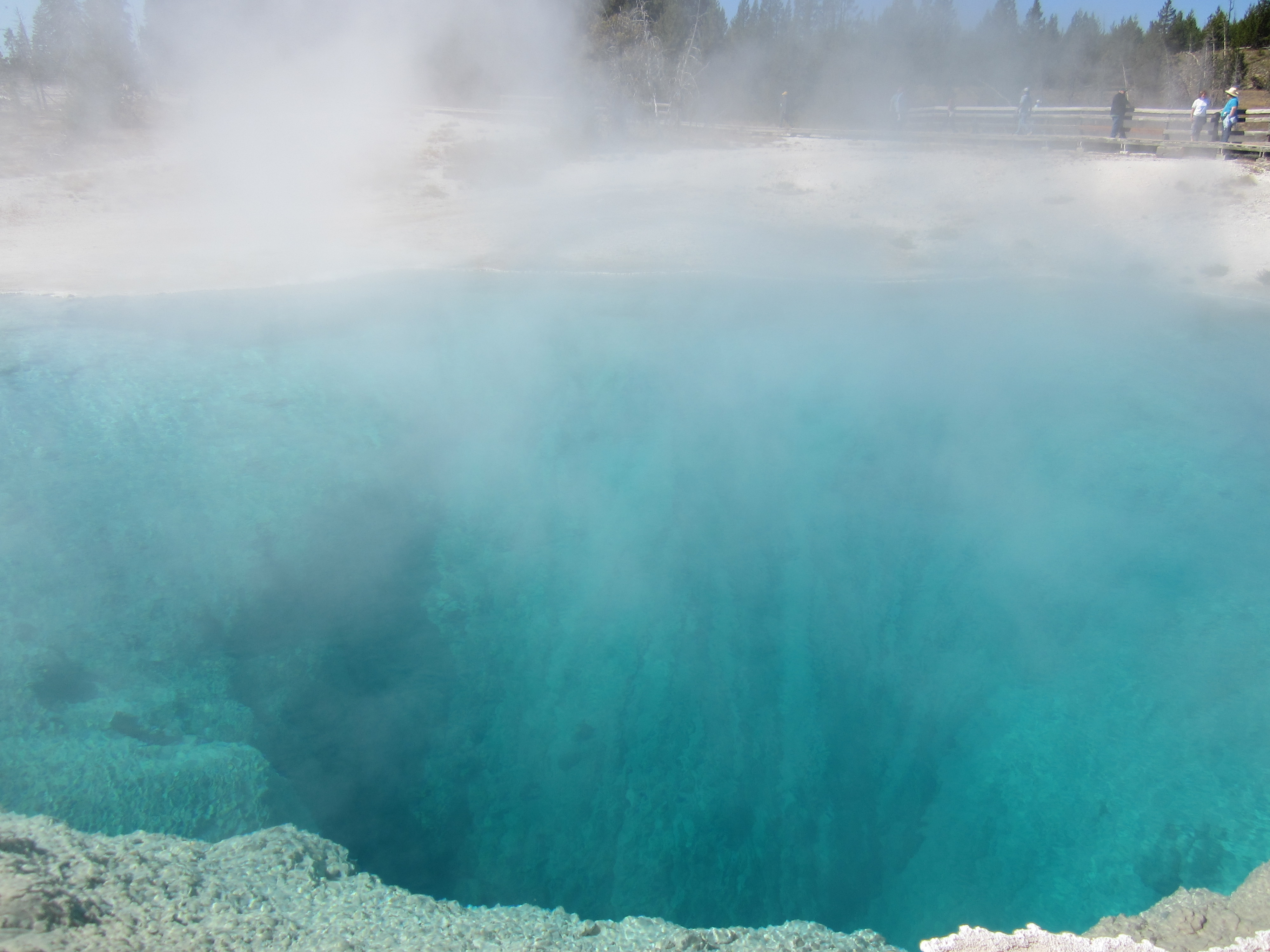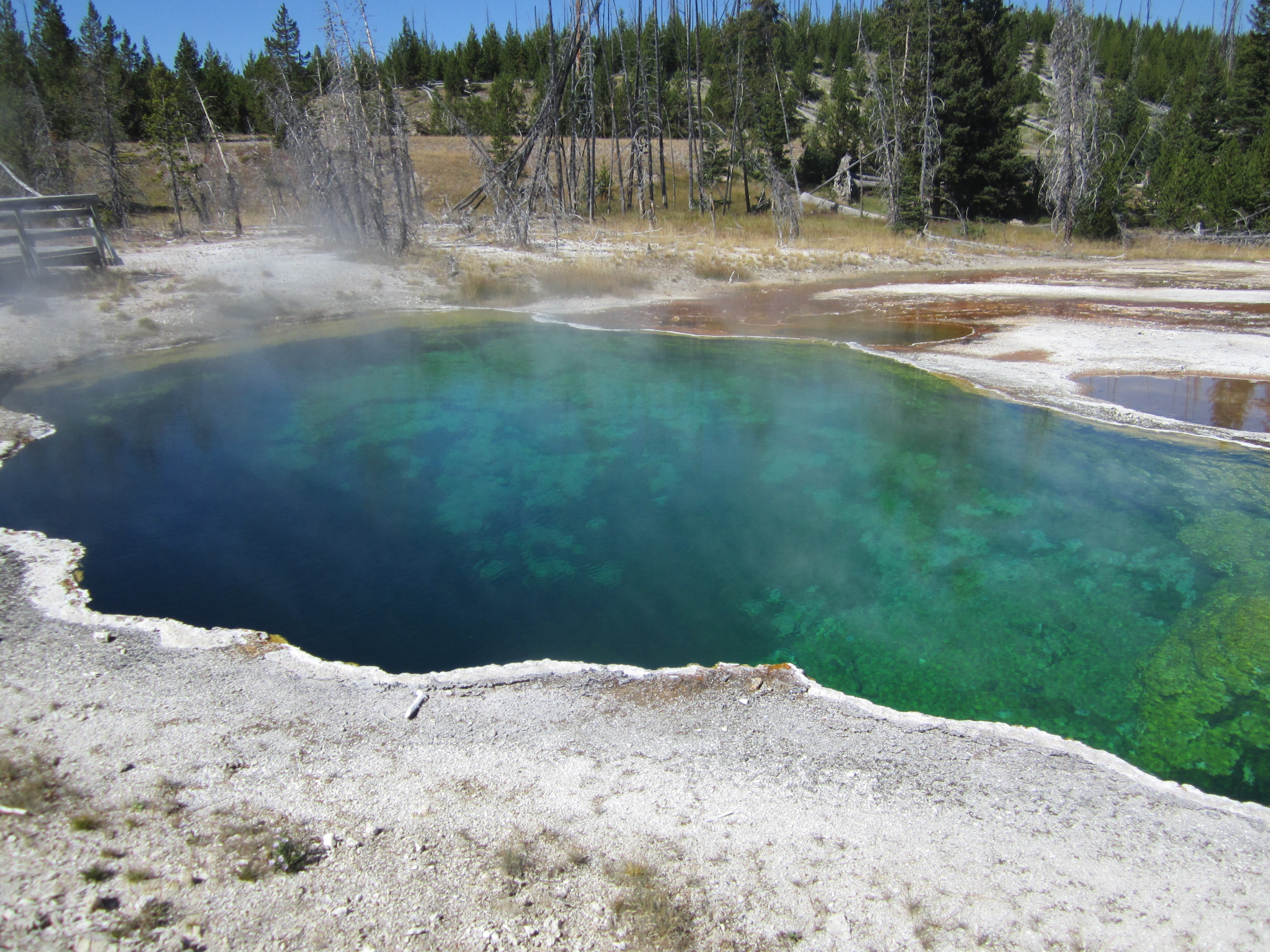 All this walking around thin crust got my stomach growling for lunch, so we ditched the guided ranger tour like a bunch of hoodlums and headed over to our old friend the lake lodge for a quick bite at the deli.  I felt like I was on The Truman Show when we got there because what had been a bustling place just days ago had suddenly grown into a ghost town…..its equally to a little more possible everyone was just out geyser hunting though.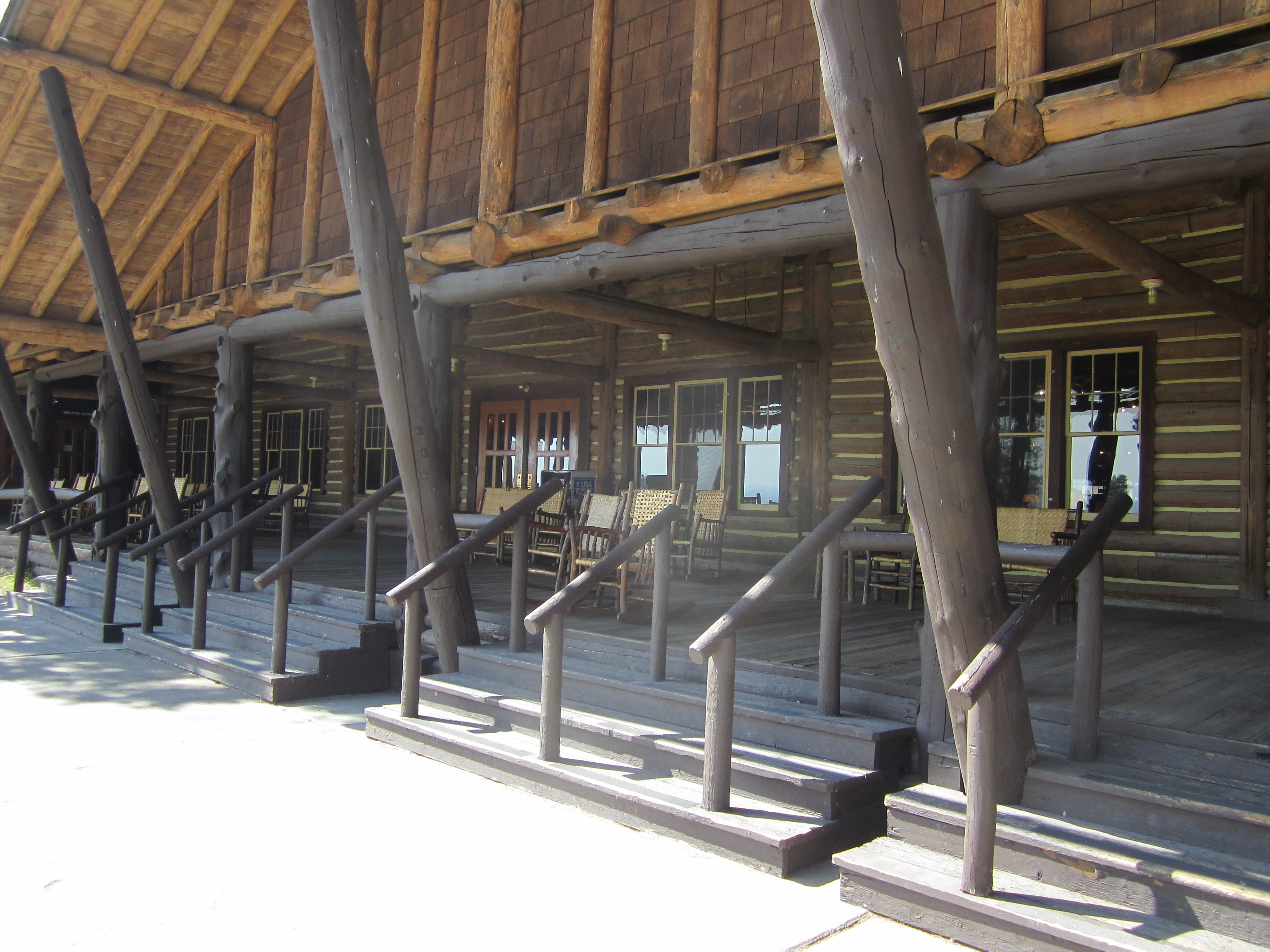 After lunch, we retraced our tracks to take the road that heads due south of the West Thumb area and we were quickly inundated by a 1-2-3 punch of water sightseeing bliss.  Our first water landmark was Lewis Lake named after someone with the name Lewis.  After Lewis Lake we came to Lewis Falls but as far as i'm aware there is no relation besides being named after the same Lewis individual and sharing the same water.  Last but not least, we came to the Moose Falls where we were treated to a magnificent display of falling water, and also a small group of swimmers braving the tadpole infested waters.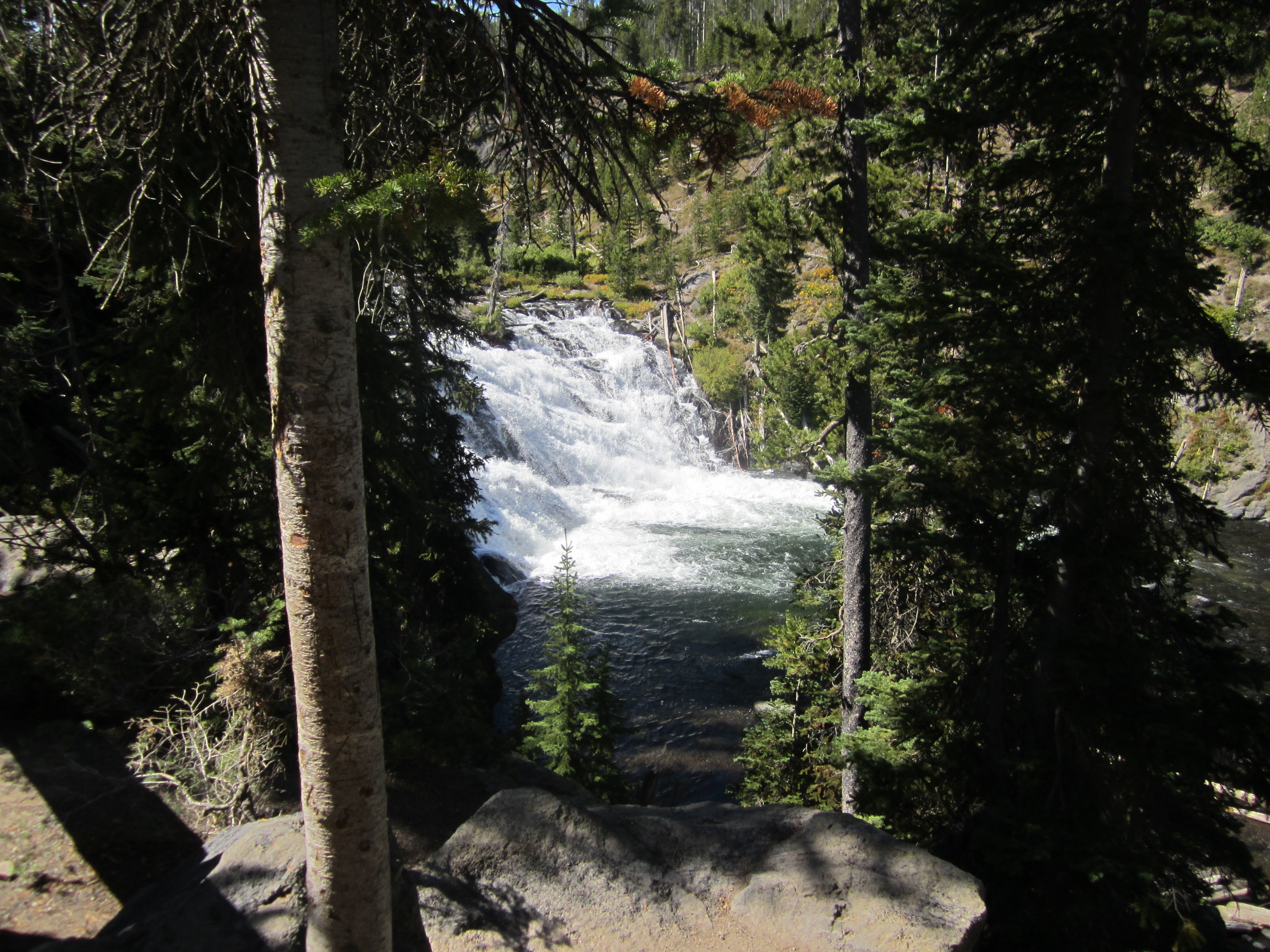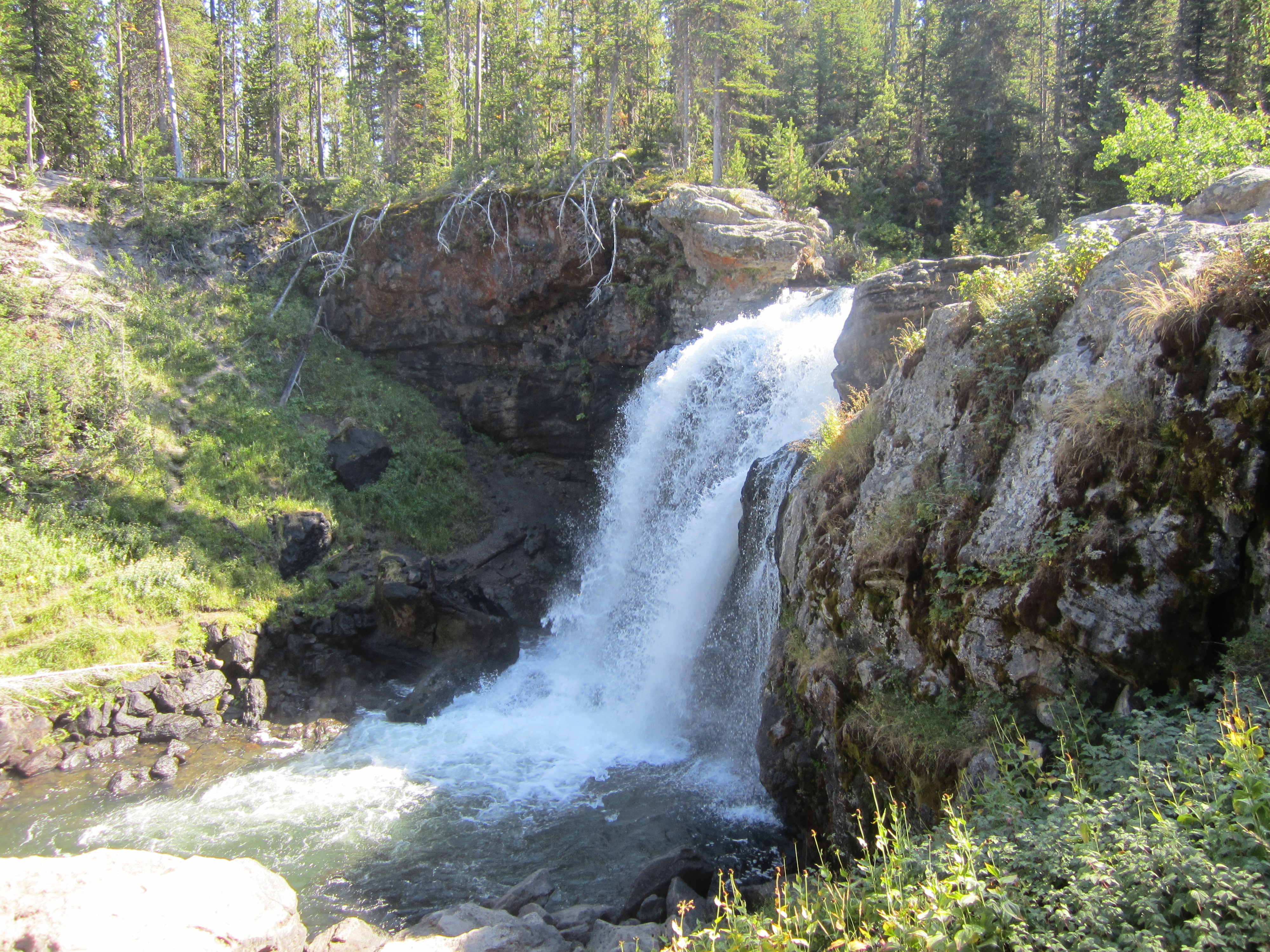 After this last run in with the waters of Yellowstone, we drove out the south entrance and immediately found ourselves in another national park….Grand Teton National Park, home of the Grand Teton himself.  We stopped at a visitor center and the first thing I did in Grand Teton National Park was buy a Yellowstone shirt.  I could tell there was a huge rivarly brewing between the two parks and decided I should add my own little piece of controversy to the battle.  We drove on and soon got our first view of Jackson Lake.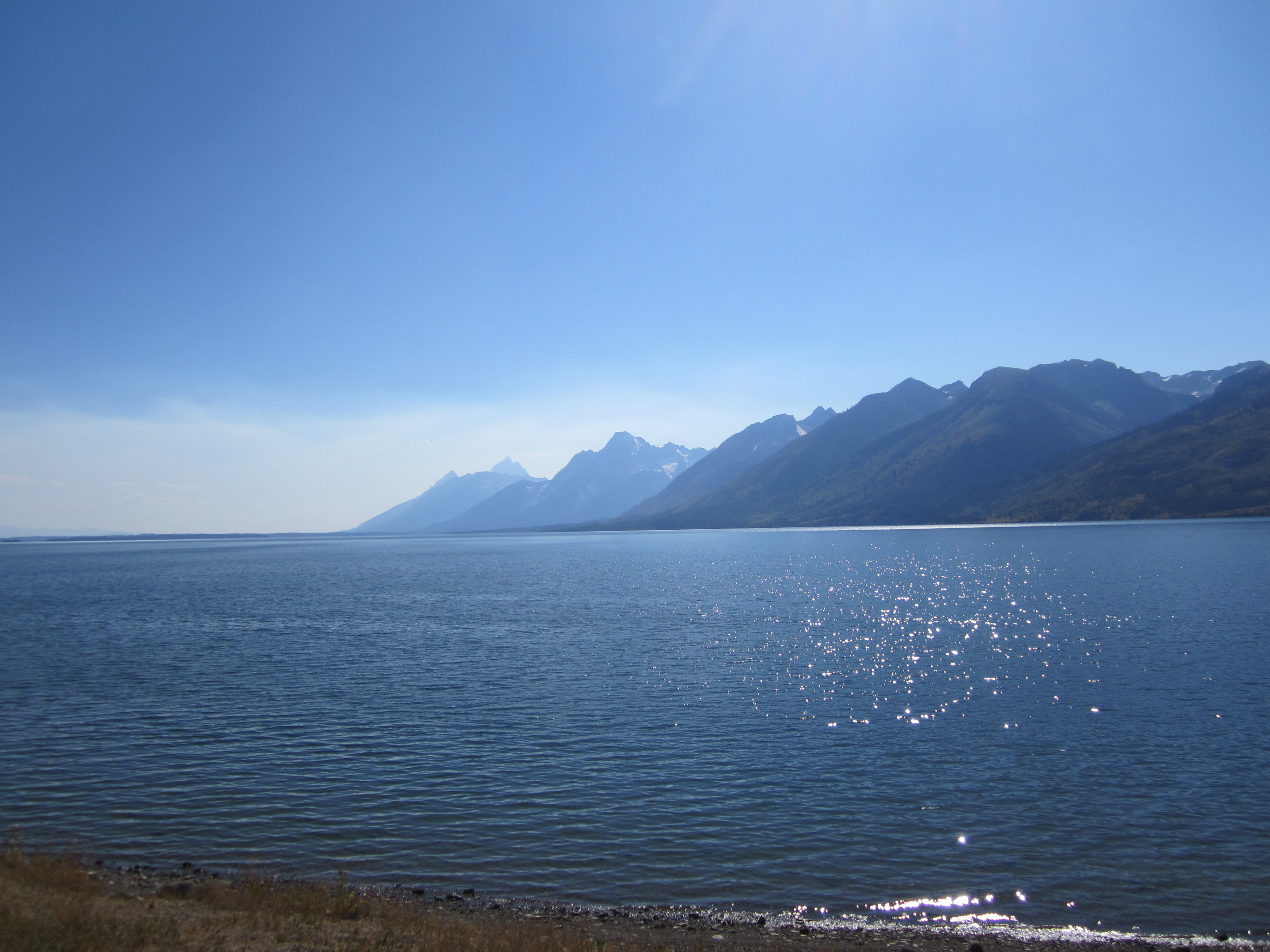 We continued on and soon the Tetons themselves sprung into view and left us all gasping for breath.  The Tetons have a nice ragged look due to the fact that they are the youngest mountain chain in America and therefor have only been exposed to millions of years worth of wind, snow, water, ice and mosquitoes as opposed to the Rockies which have been exposed to billions of years worth of these mind boggling erosions. It was very hazy as we entered the park but who doesn't like a good mountain tease?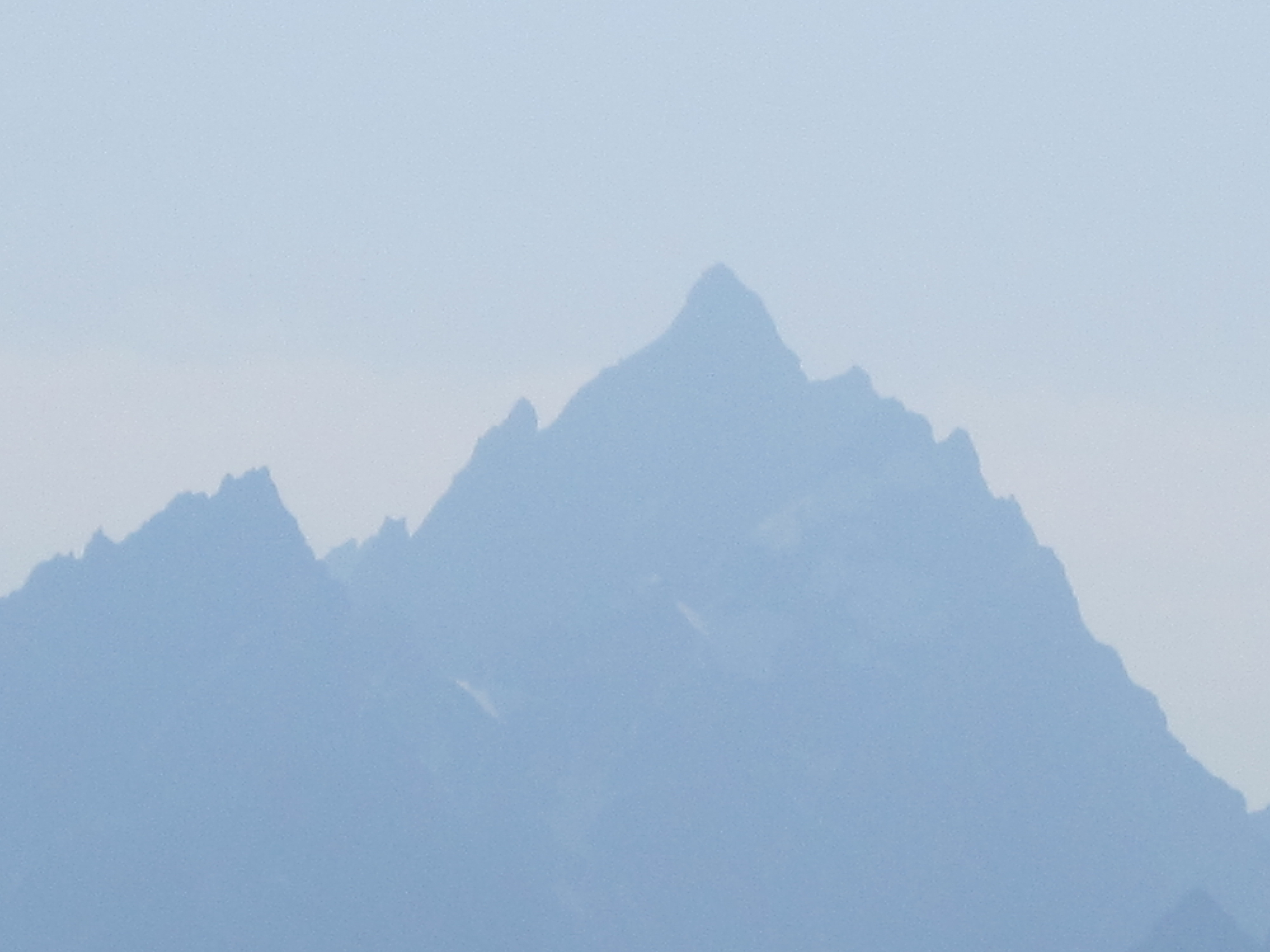 We reached our new lodging and checked into our cabins where I was ecstatic to see I a had a gas fireplace in my room.  There's nothing that helps you get to sleep faster than putting your head down next to a pilot light flame lit by a continuous gas flow into your wooden cabin.  We got to the cabins a little late so we spent the rest of the evening checking out a sunset that has no equal and then having a nice dinner and finally passing out…. with a fire extinguisher under my pillow…