It was supposed to be a nice weekend and since the inevitable blizzards had yet to bury the summits in snow, I figured it was a perfect time to take down another of the smaller mountains.  I was actually so motivated that I went ahead and chose the smallest of the 4,000 footers and decided to just drive up for the day, do the hike, and sleep while the car drove me back.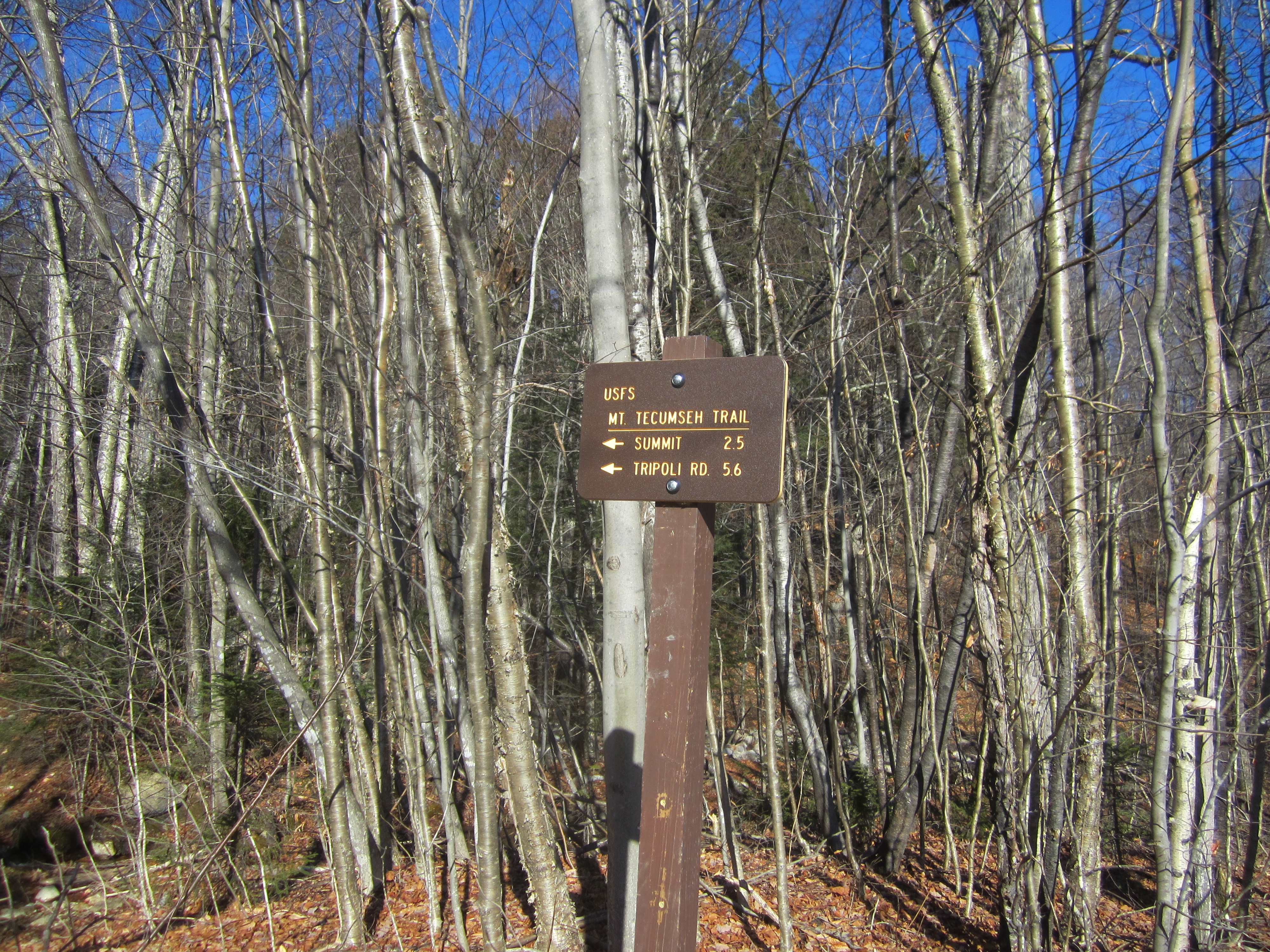 After a 3 hour drive, I arrived at the Waterville Valley parking lot sorer from the drive than I have ever been from climbing  mountains.  I threw on my disintegrating backpack and dove onto the trail feet first for another chilly hike.  The trail started off fairly easy until it reached a one way river crossing.  Luckily, I was going the right way and was allowed to cross.
After the river, the trail turned a little to the left towards the ski trails and the peaceful roar of the snow makers drifted into my ears.  I started to notice that without any snow on the ground and with bare trees, that it was a little nerve racking just trying to stay on the trail…..if there was even a trail to stay on.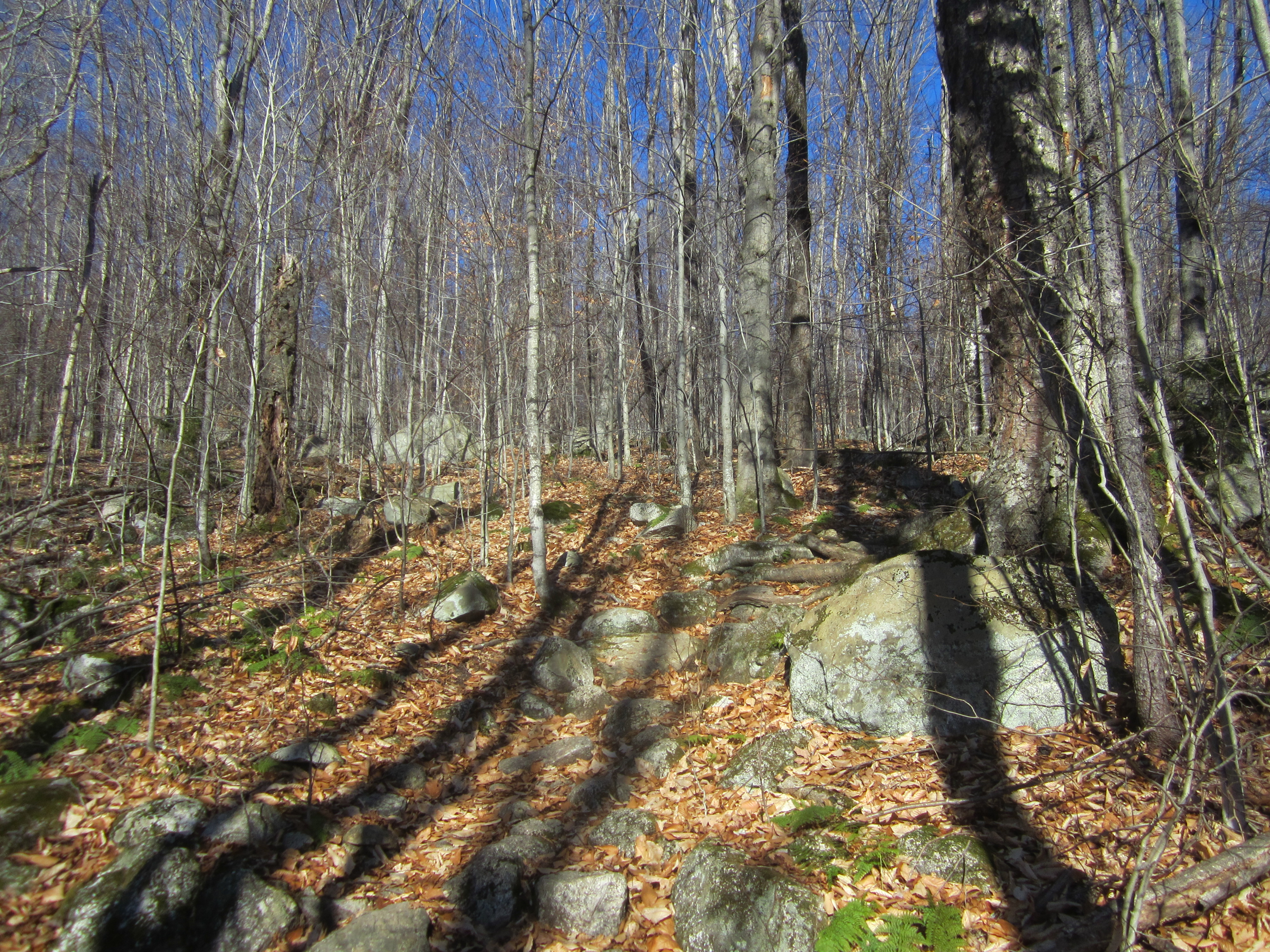 I continued on for a while and finally reached the prime viewing spot on a Tecumseh hike…..the ski slopes.  I stepped out and enjoyed the views for a bit before the danger of being buried under fake snow drove me from the slopes.  The trail really starts to pick up steam from this spot as the trail begins a relentless climb to the top.  If you have a thing against turns then this trails for you because I am pretty sure it was a straight line to the top which was nice but also a little demoralizing to see.
This may be the lowest of the 4,000 footers but I don't think the mountain is aware of this lack of status as the trail gives a steady beating to your legs.  I was battling my way up when I heard some voices from below and noticed a group of people overtaking me.  I tried to stay ahead of them as a matter of pride but finally had to throw in the towel and let them pass.  As they walked by, I heard one of them say "you know, this is the first 4,000 footer I have done since I turned 60."  This did not help my pride regain its composure.
I soon lost sight of my speed hiking seniors and got back to my own grueling experience.  Before long I reached a fork in the path and had a tough decision to make.  Should I go left towards the summit or do I go right towards the summit?  I did not want to blow this life changing choice so I went ahead and pulled out my trusty White Mountain Hiking Guide(ding ding) and read that my trail continued to the right but that both ways led to the same summit.  I decided to stay on my trail since we had grown quite fond of each other.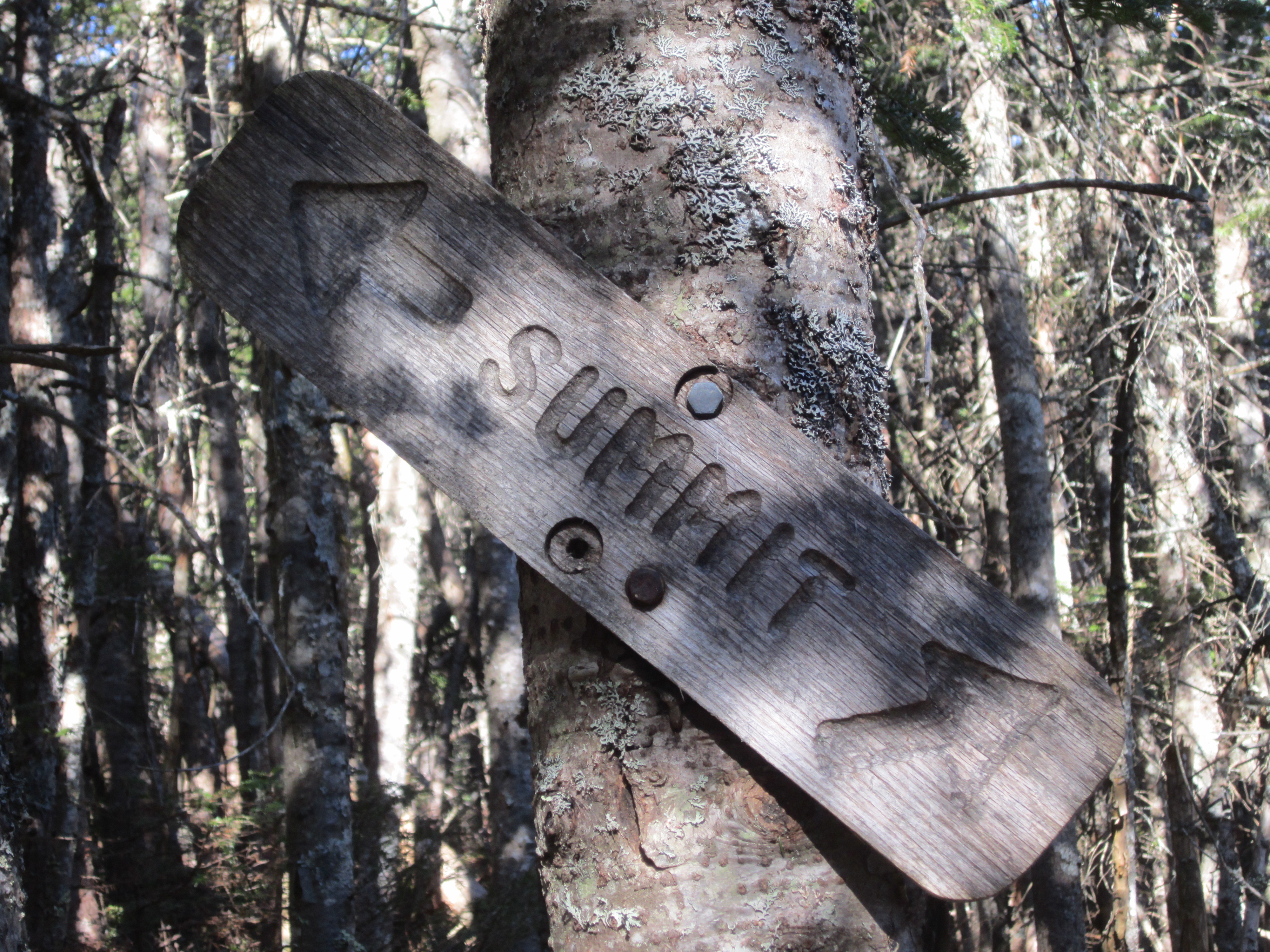 There was some fantastic views of the trees on this little ridge trail with one nice opening that showed off the top of the ski slopes and what looked like a gigantic skier gathering.  After stopping to write a note to myself to check on whether it qualifies to have climbed a 4,000 footer if you ski down it…..I pushed on and soon came to the summit which was busting at the seems with other hikers.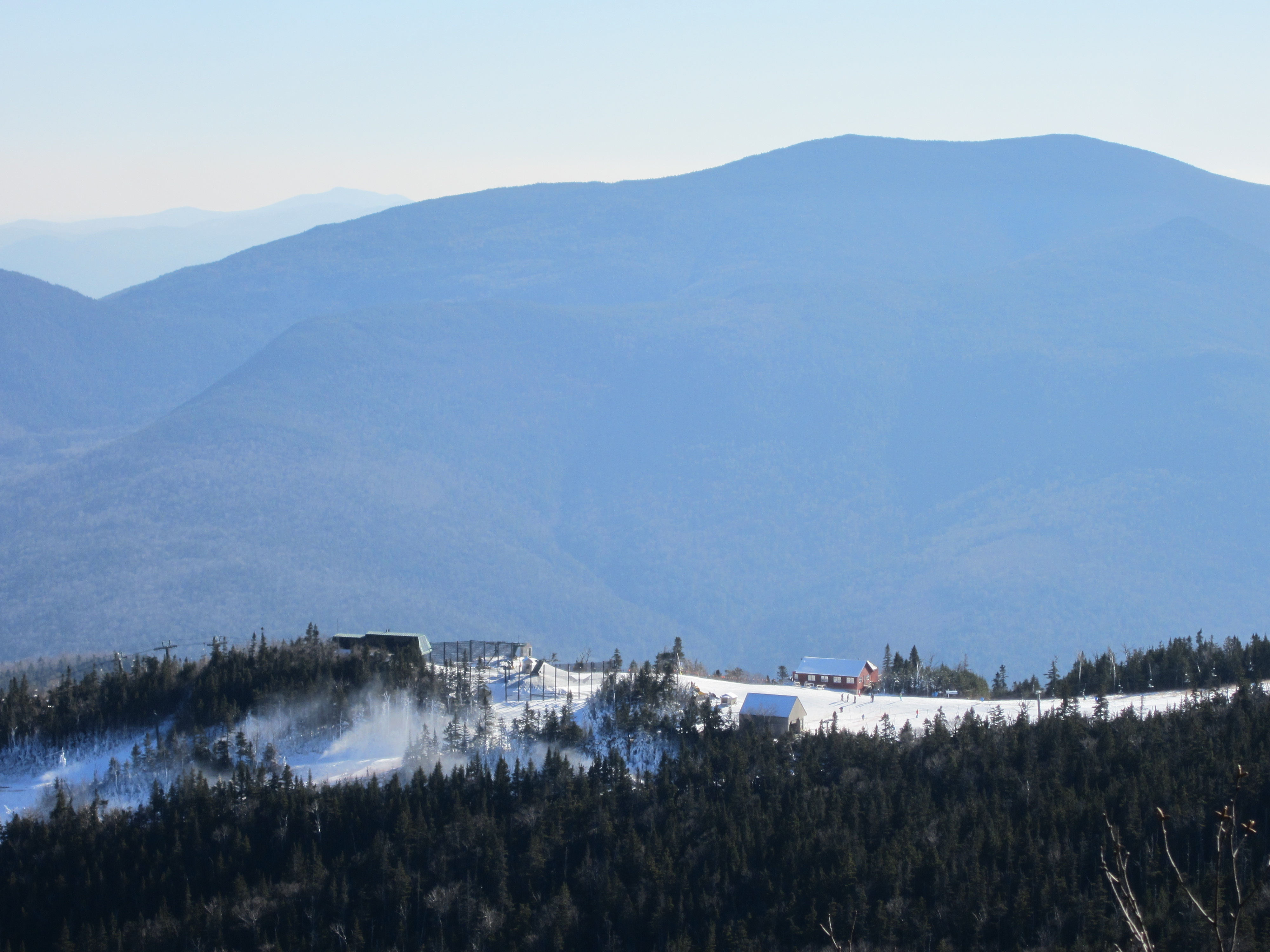 I found myself a nice perch and proceeded to settle in for some summit meditations but not before smashing my funny bone on a rock.  I think the only one who found this funny was the rock but I was forced to turn the other cheek to save face. After enjoying the nice views from the summit and the freezing temperatures, I took some photo's along with my customary prop shot to prove I was there before I started my way down again.
I decided to try the other route from the summit which ended up being a shorter less scenic route but that just played right into my downhill hiking strategy of hustling. I was laughing out loud to myself as I sped by the same group that had wounded my pride on the way up.  I was leaping over rocks and small trees at an alarming rate when I started to spot some more groups coming up from below.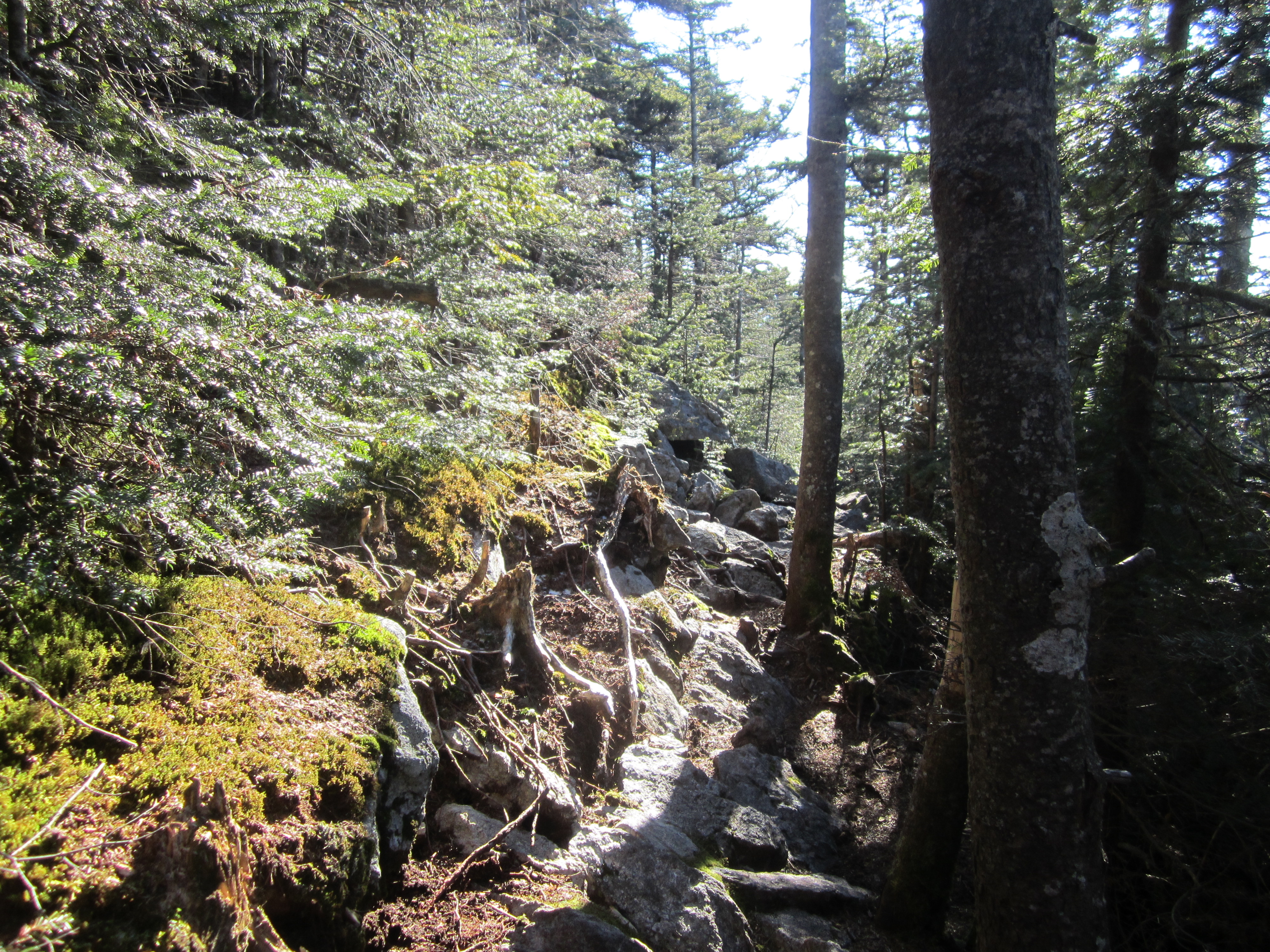 After passing one woman who was absolutely furious when I told her she still had 50 minutes to, I soon arrived at the ski slope viewing area but chose to continue on before I got too comfortable. I continued on an after passing a few mutant trees and almost spraining my ankle a few dozen times…..I arrived back at the car which was surprisingly right where I left it.  9 down, 39 to go!