We packed up our bags in the morning and said our good-byes to the Lake Lodge cabins. I was particularly sad because I had grown accustomed to having a dumpster being the first thing I saw as I walked out the door in the morning, but was sure our next lodge might have a few dumpsters lying around.  We shoved off and started to retrace some of the same steps we took the last two days while we made our way to the geyser dominated south west quadrant of Yellowstone.
I was surprised to see that we did not have a send off from the other guests as I looked around and saw the place was reminiscent of some of the many ghost towns I got caught up in during my youth.  We started off down the road and thought about trying to run the buffalo toll booth since we wouldn't be coming back this route again, but felt a little guilty at this absurd idea when we saw the good-bye boxing match they had set up for our viewing pleasure.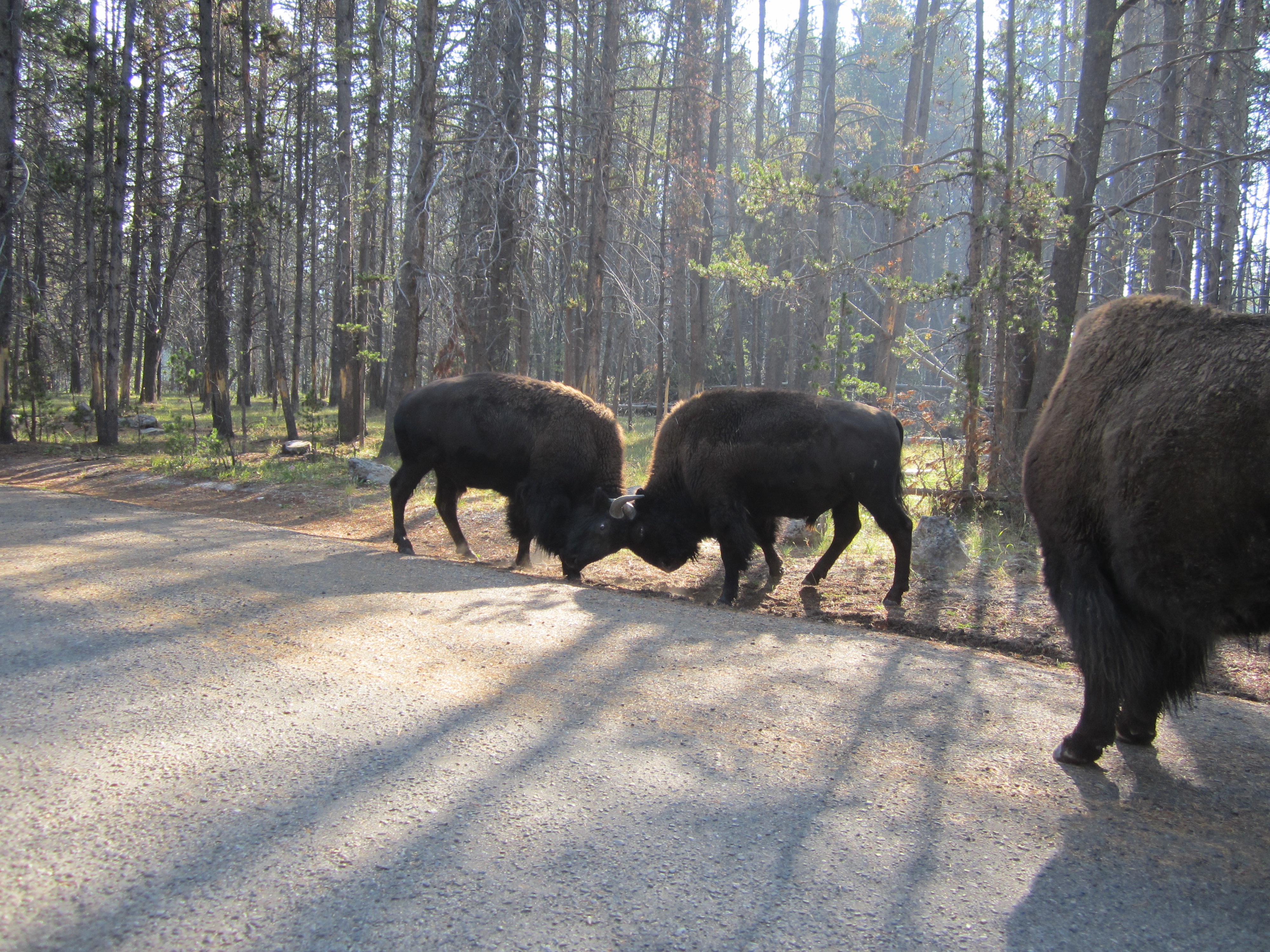 We drove on and gave a courtesy nod to the Norris Geyser Basin and as we reached uncharted land we pulled out our maps to see what landmark we would come to first.  The answer to this engaging question was something called the Artist Paint-pots. I donned my smock since I planned on taking a lot of pictures and we headed for the paint-pots dodging lots of hissing steam along the way.  The pots are one of the "cooler" thermonuclear events happening in Yellowstone as they showed themselves in the form of some sort of weird paranormal bubbling mud.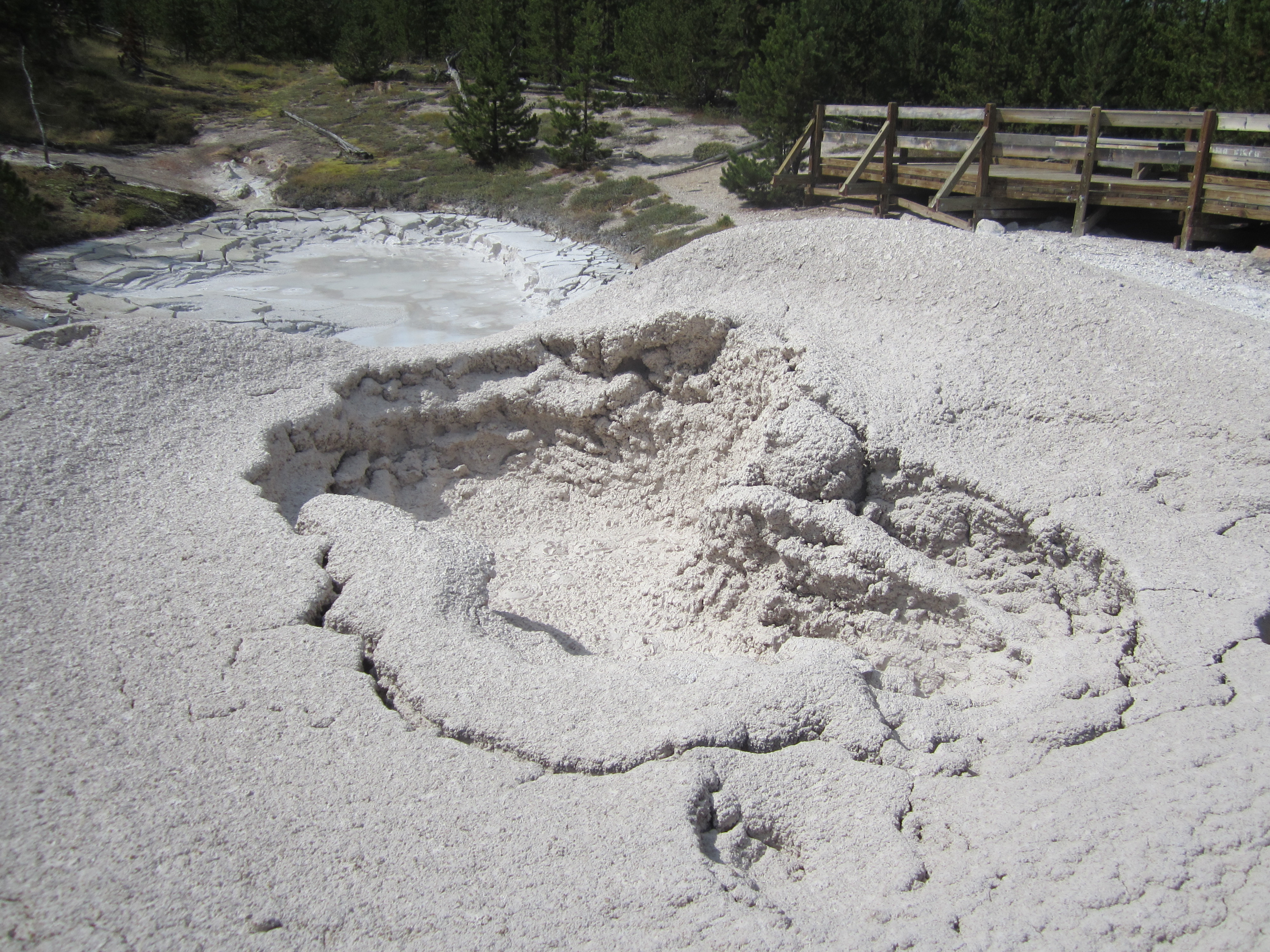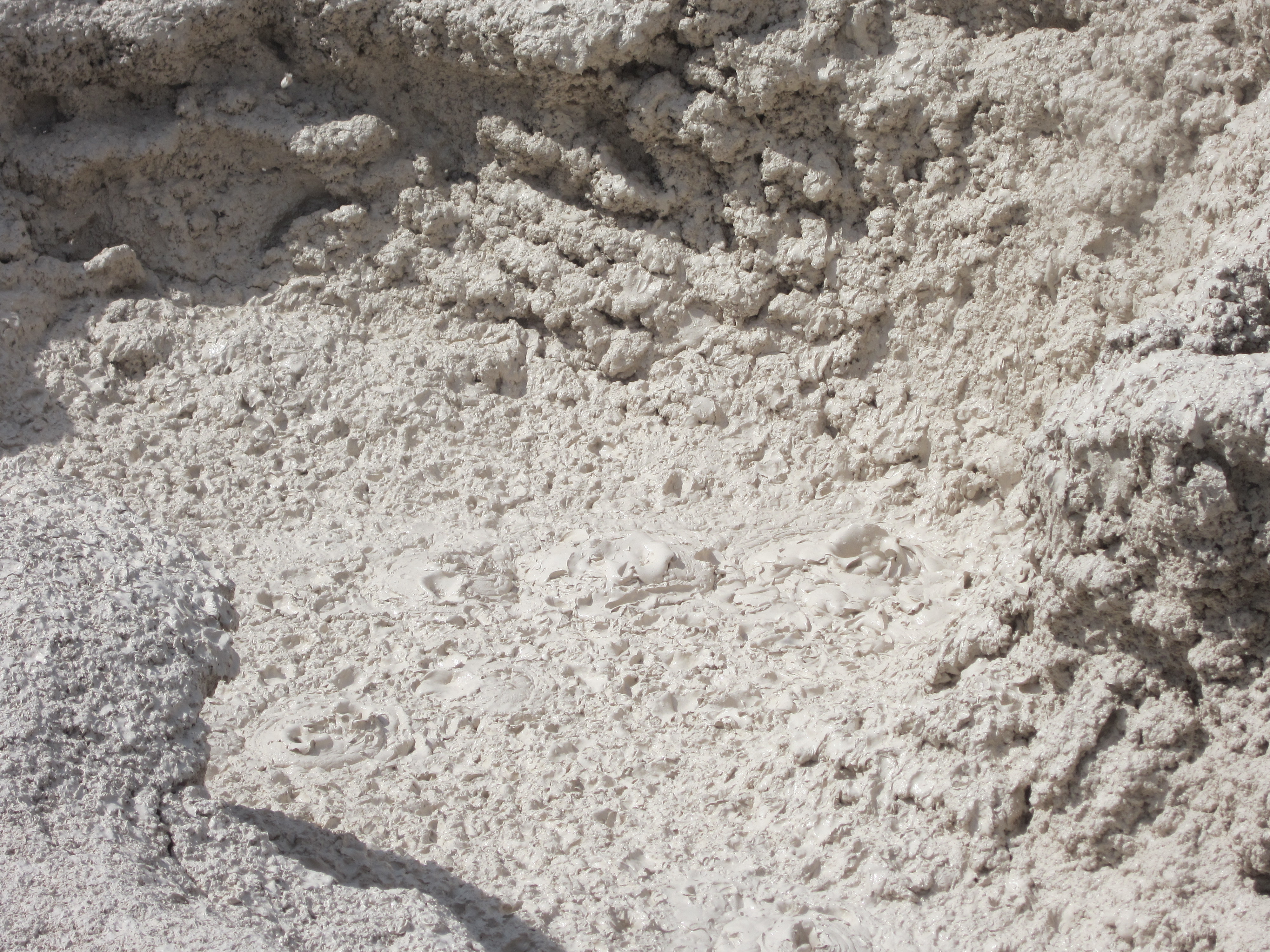 After losing ourselves in this land of scalding hot mud, we drove on to our rendezvous with another great waterfall in Yellowstone….the Gibbon Falls.  We checked out the falls and then someone spread a rumor, I think it was us, that there was a bald eagle perched in a tree following our every move. The crowd got worked into a frenzy as people started throwing elbows and jostling for position for a rare sighting of this creature that graces all our money.  I was the first to spot the elusive bald bird again and was horrified to see we had been mistaken and it was really the smaller and more common osprey.  I gave the secret signal that it was time to get out of there as I was sure the crowd was soon to get hostile as they too realized our mistake.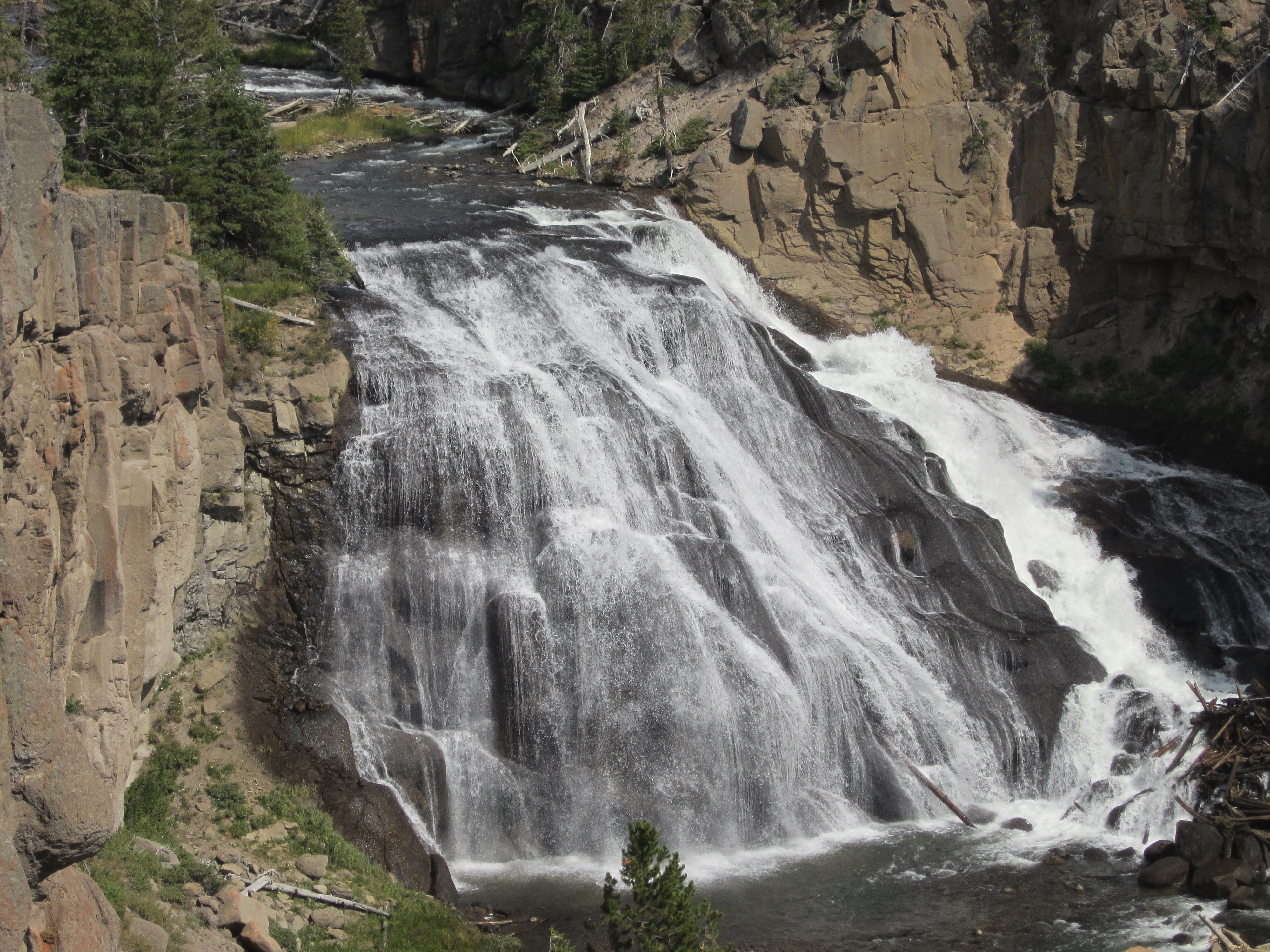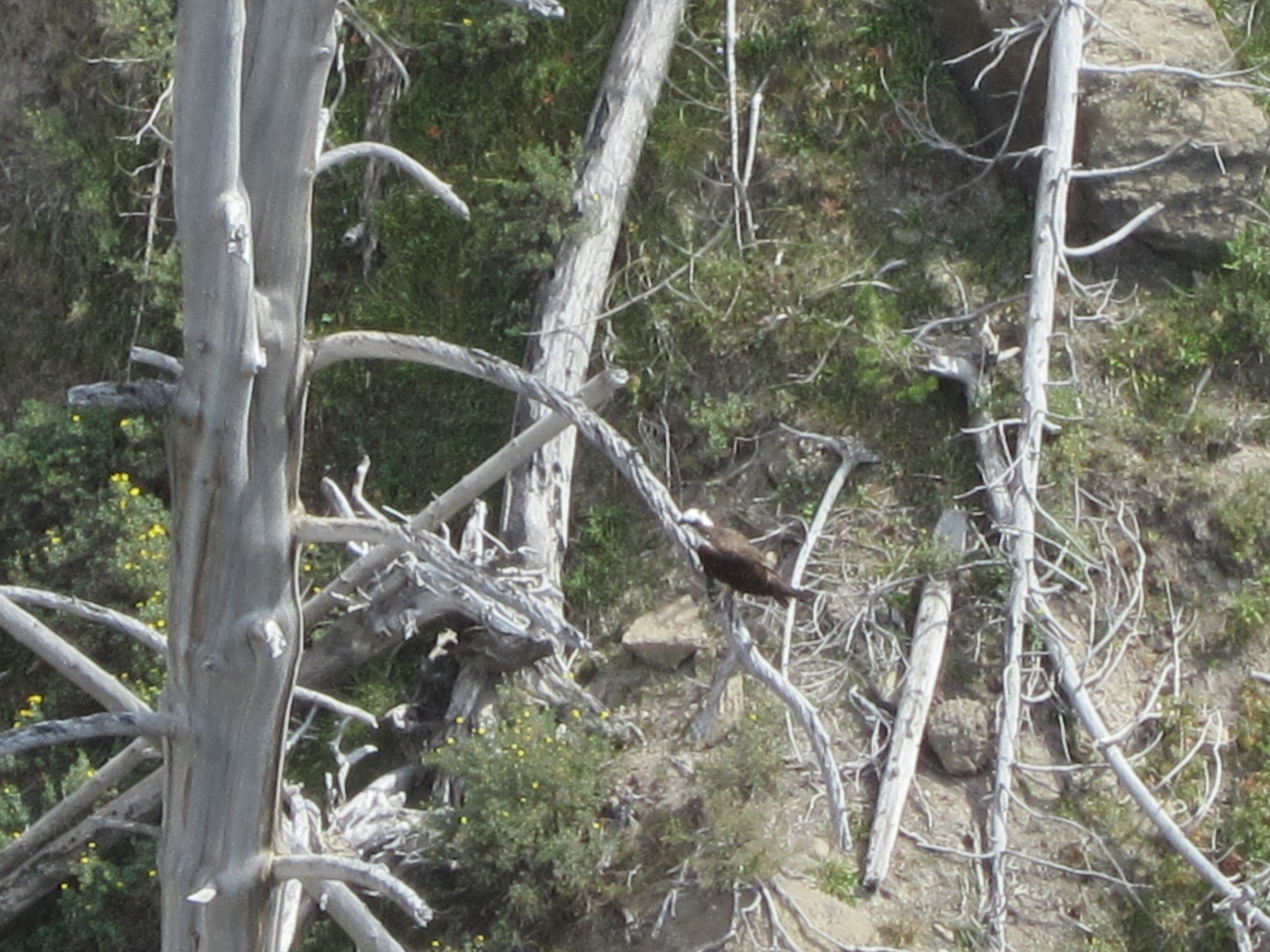 We boogied on out of there and stopped a little ways up the road to catch our breaths and take a nice relaxing stroll around some sort of hot spring area. As we entered the board walk that circled around, I saw the carcass of what I presumed to be a buffalo off to the side, and was happy to see any bears in the area were most likely full at the moment.  We circled around and it wasn't until later that I fond out  that the carcass in the area was almost as dangerous as a crowd of angry bird watchers.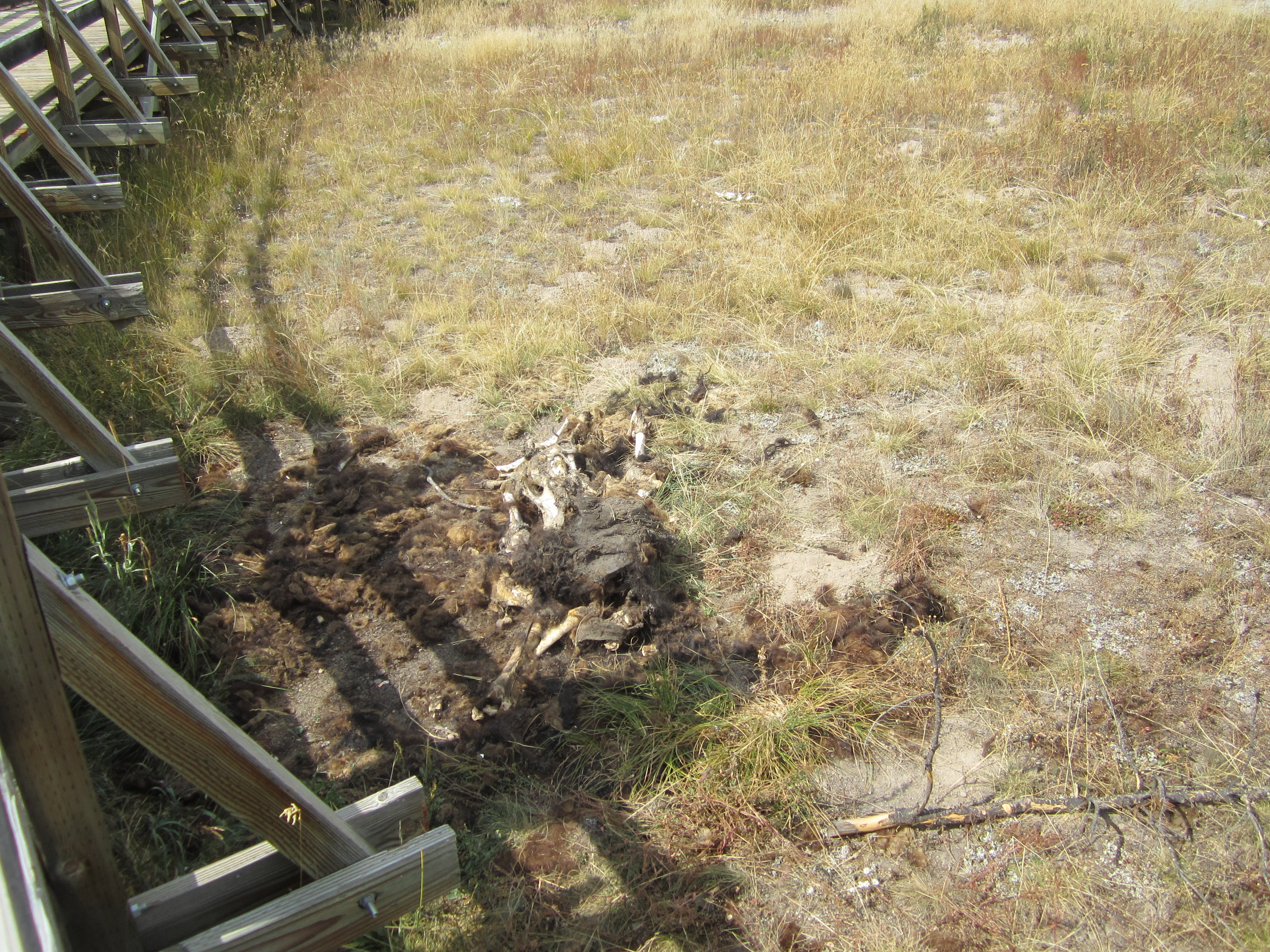 We continued on and soon reached the Madison area of Yellowstone where we were pleased to see a large gathering awaiting our triumphant arrival.  We pulled up and I got  out to shake some hands and receive a few pats on the back for making it this far but was a little sheepish to see that everyone was really gathered to watch an elk drink some water.  I think the elk was a little uncomfortable with its new paparazzi friends so I gently urged us to continue on and leave it in peace.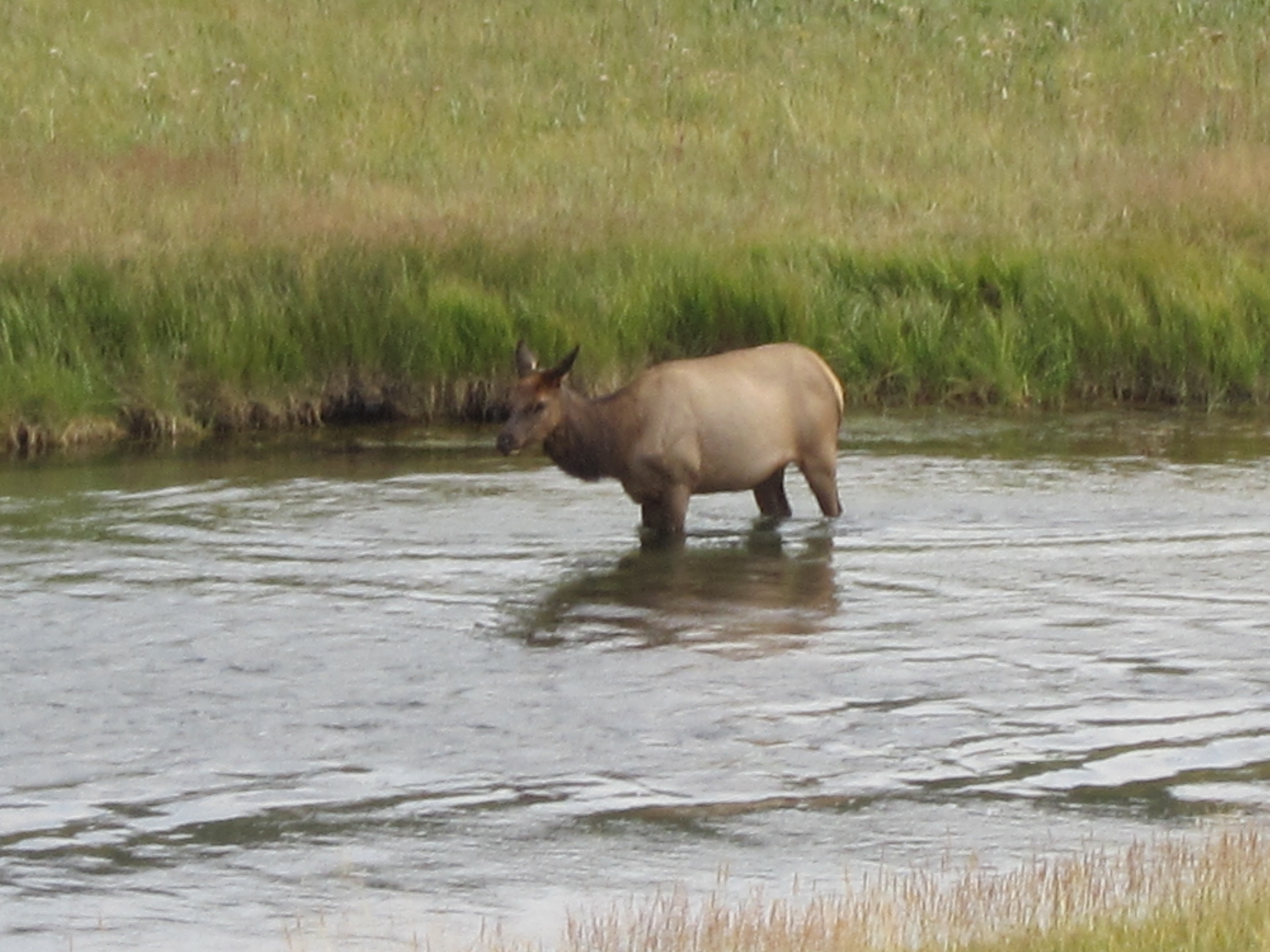 We came to a side road that looped around  and with a name called  Firehole Canyon Drive we were drawn to it like magnets on a refrigerator.  Thankfully the rivers of lava that formed the canyon had long since dispersed and we were treated to some pretty nice views that you usually see in canyons formed by lava flows……rivers, colorful rocks, cliffs, and chipmunks.  We blasted through this canyon like champions and moved into a part of the park that is ruled by the geysers.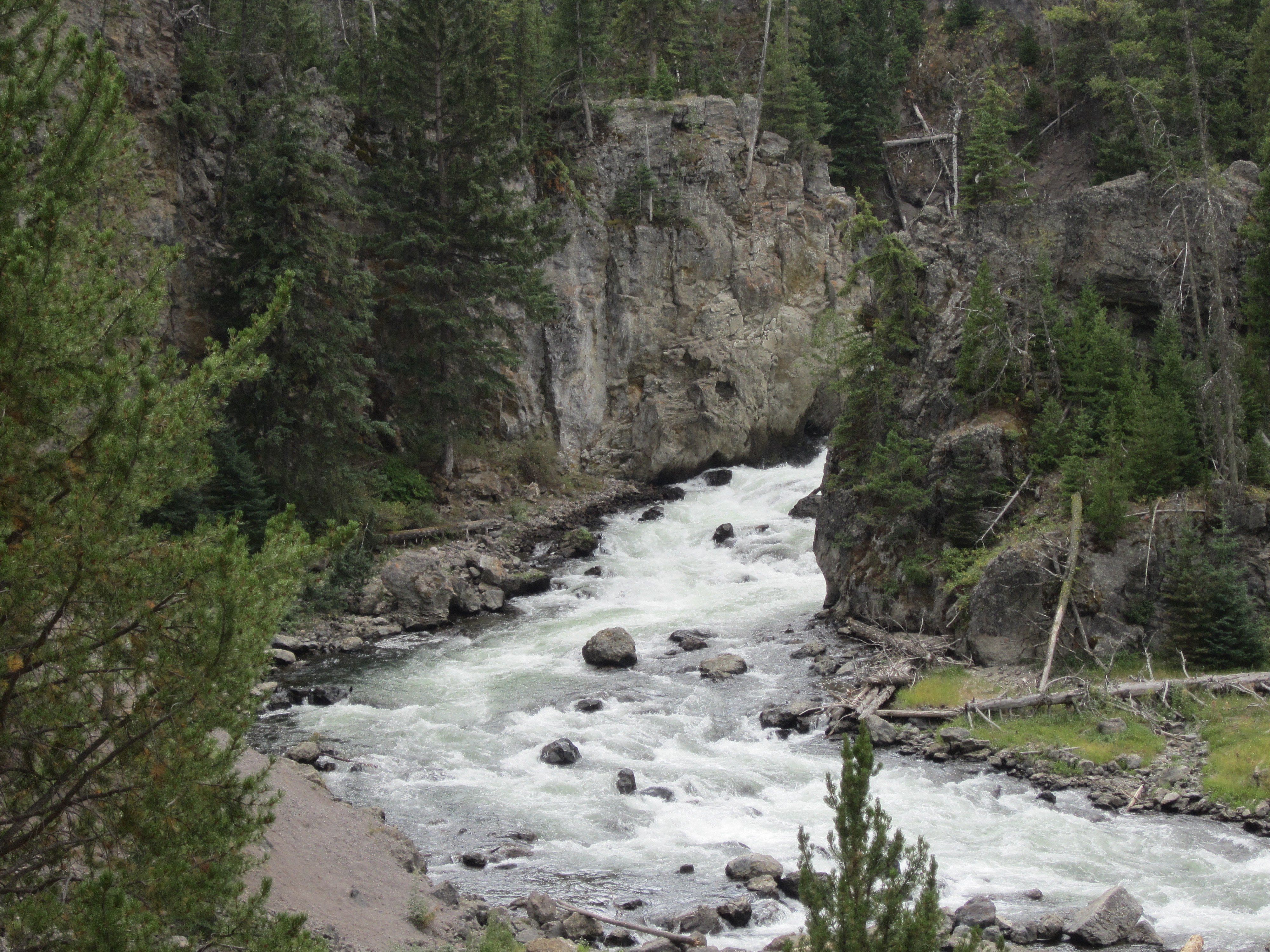 The first geyser basin we encountered was the Lower Geyser Basin and we were all surprised to find geysers here.  We got out of the car and moseyed around checking out some of the different attractions the basin had to offer.  Nobody fell into any of the pools which is always a plus in geyser land, and since we had more geysers ahead of us than we did behind us, we moved on after a while to see the next basin that had a slightly more imaginative name.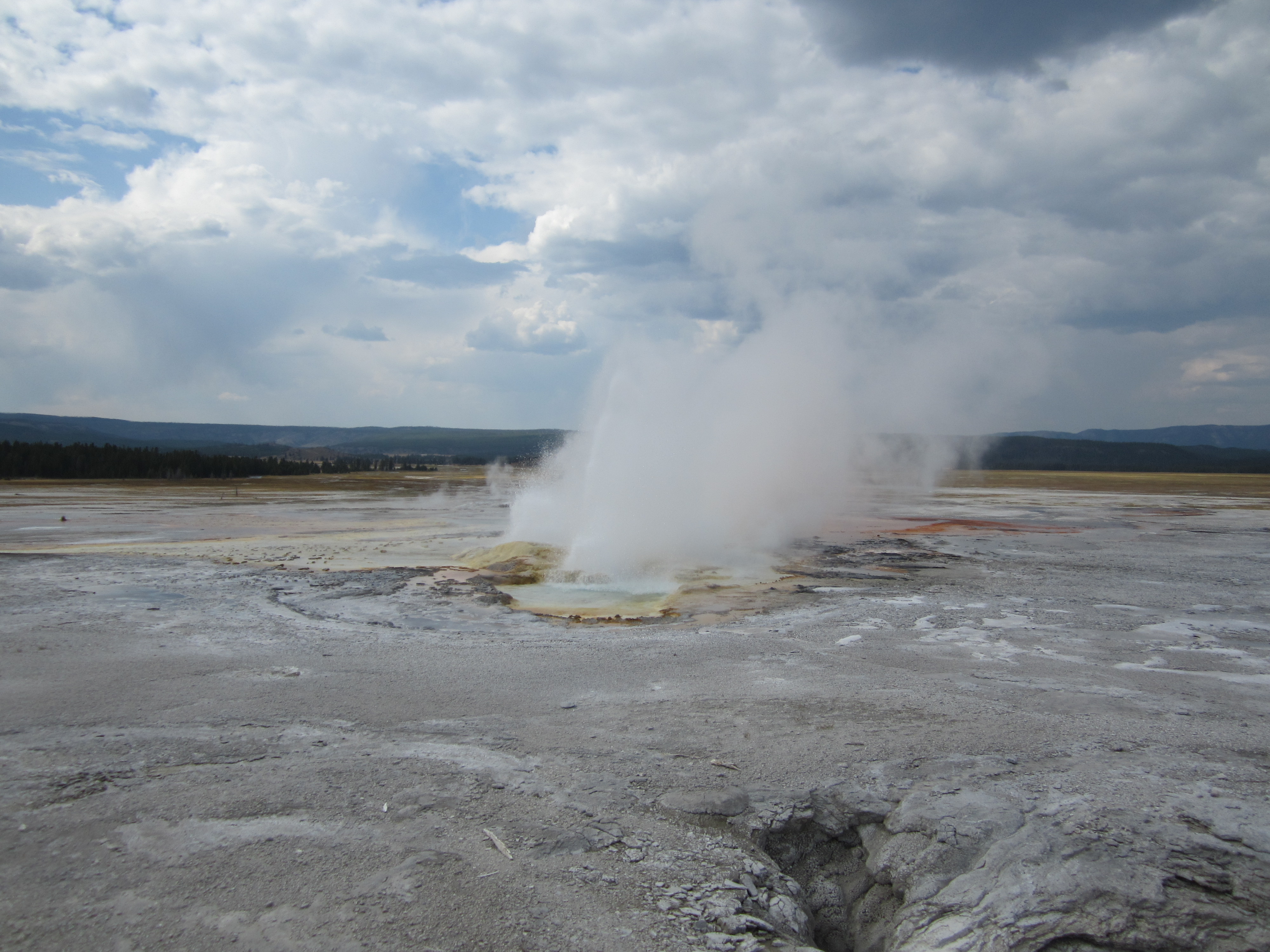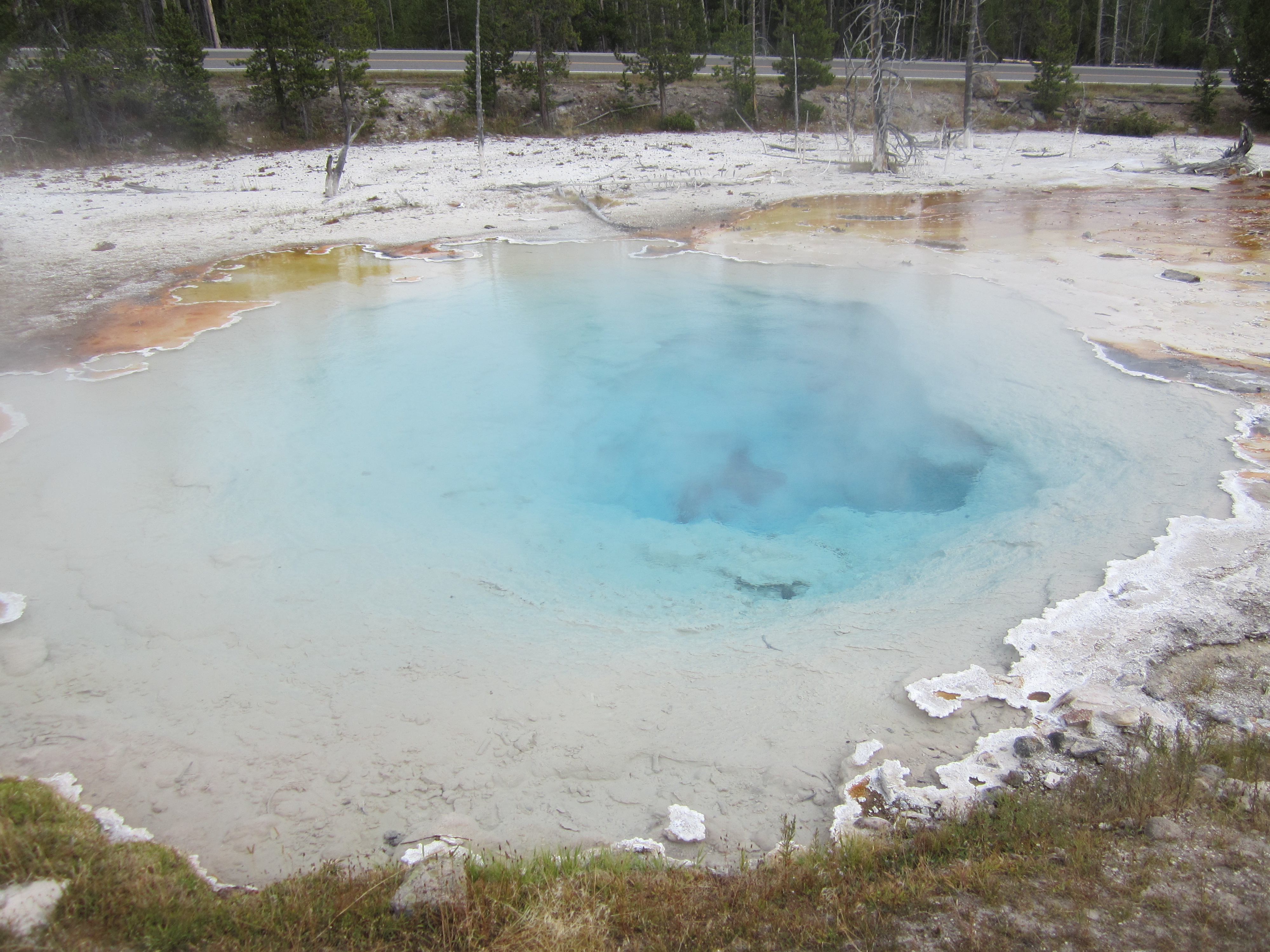 The Midway Geyser Basin was dominated by large ponds of scalding water that left me speechless and slightly bewildered at the amount of heat that must be generated to bring a whole pond to the boiling temperature.  I was thankful for the rotting boardwalks that kept us from certain harm as we walked over these boiling pools of water.  After stopping to pay our respects to a few geysers that were also sprinkled about the Midway Basin we once again moved on.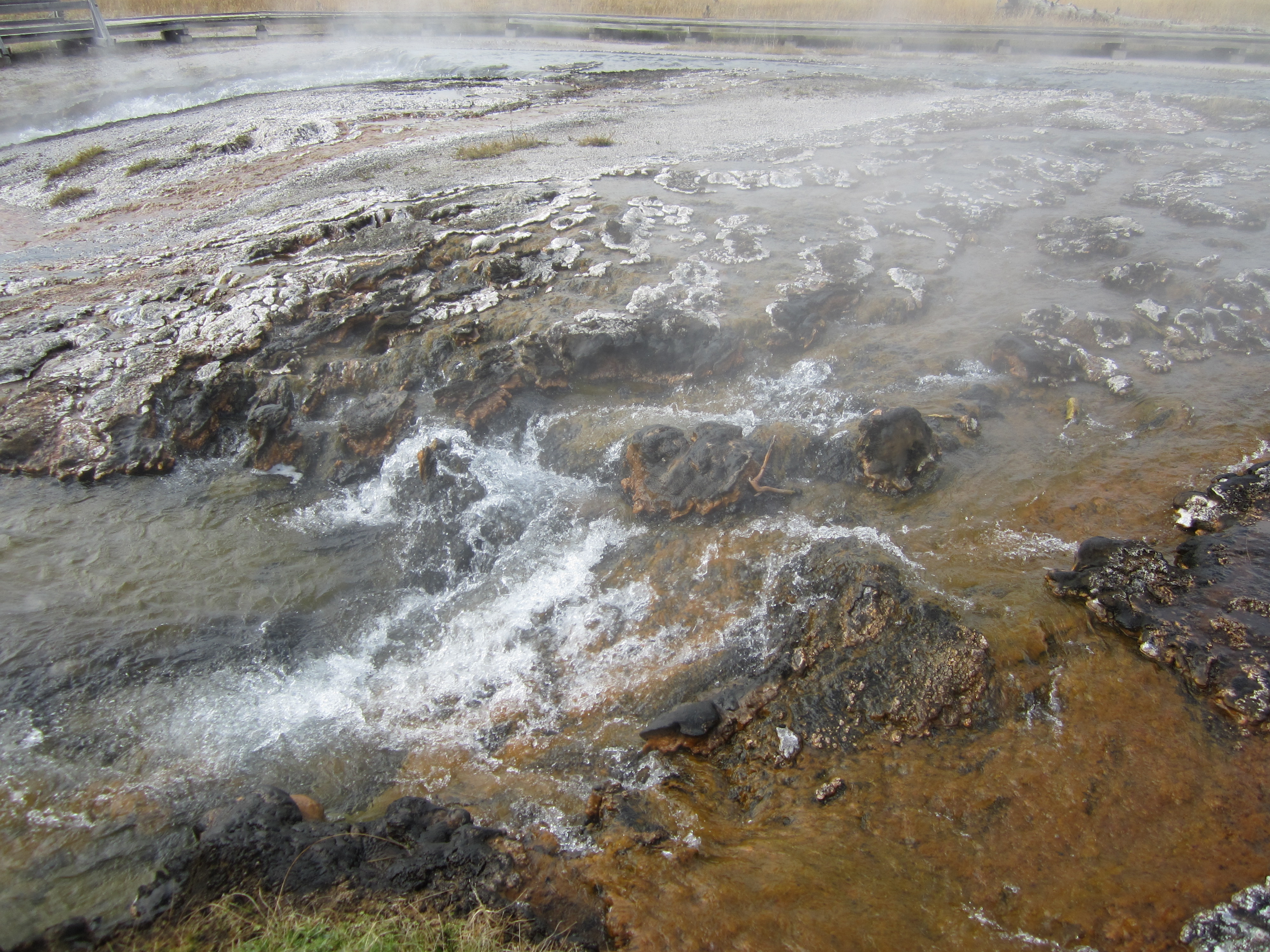 At the boundary between the Midway and Upper Geyser Basins there is a real treat that only people who enjoy real treats can enjoy.  Its called the Grand Prismatic Spring and while I can't speak for its prismaticness, it sure is grand.  This whole area is really intense as it has a nice combination of steaming rivers and big colorful hot springs led by the a fore mentioned Prismatic Grand.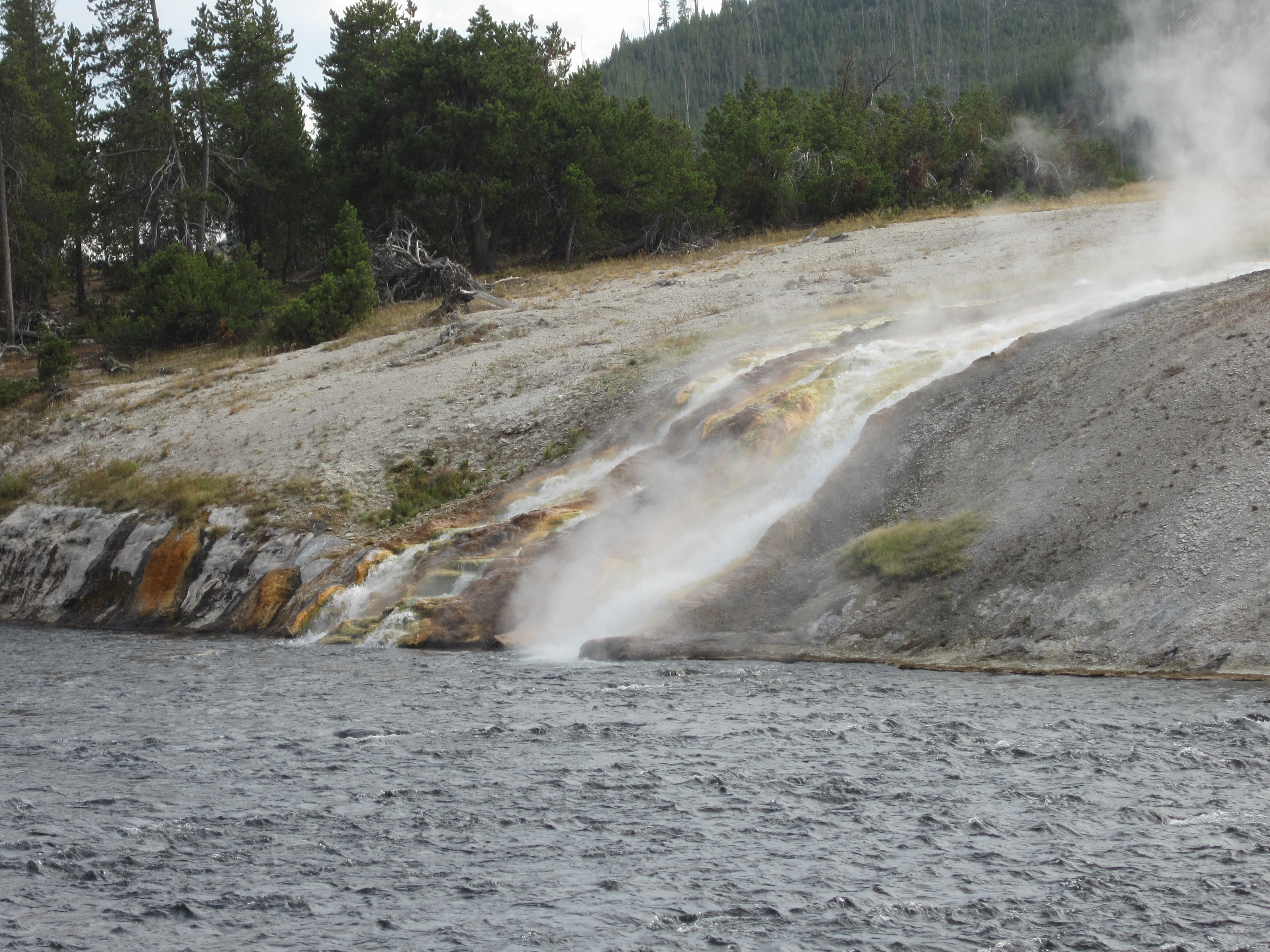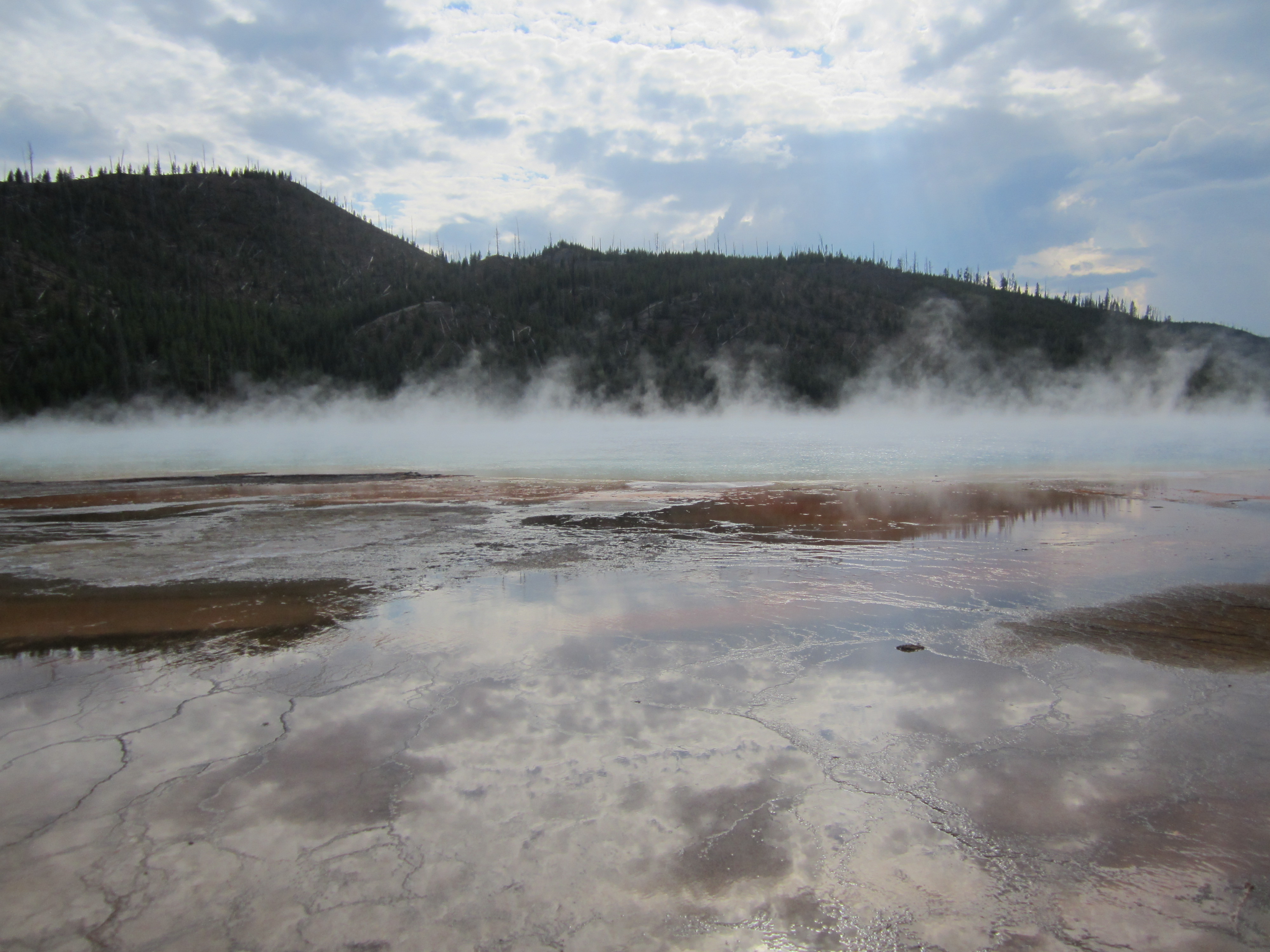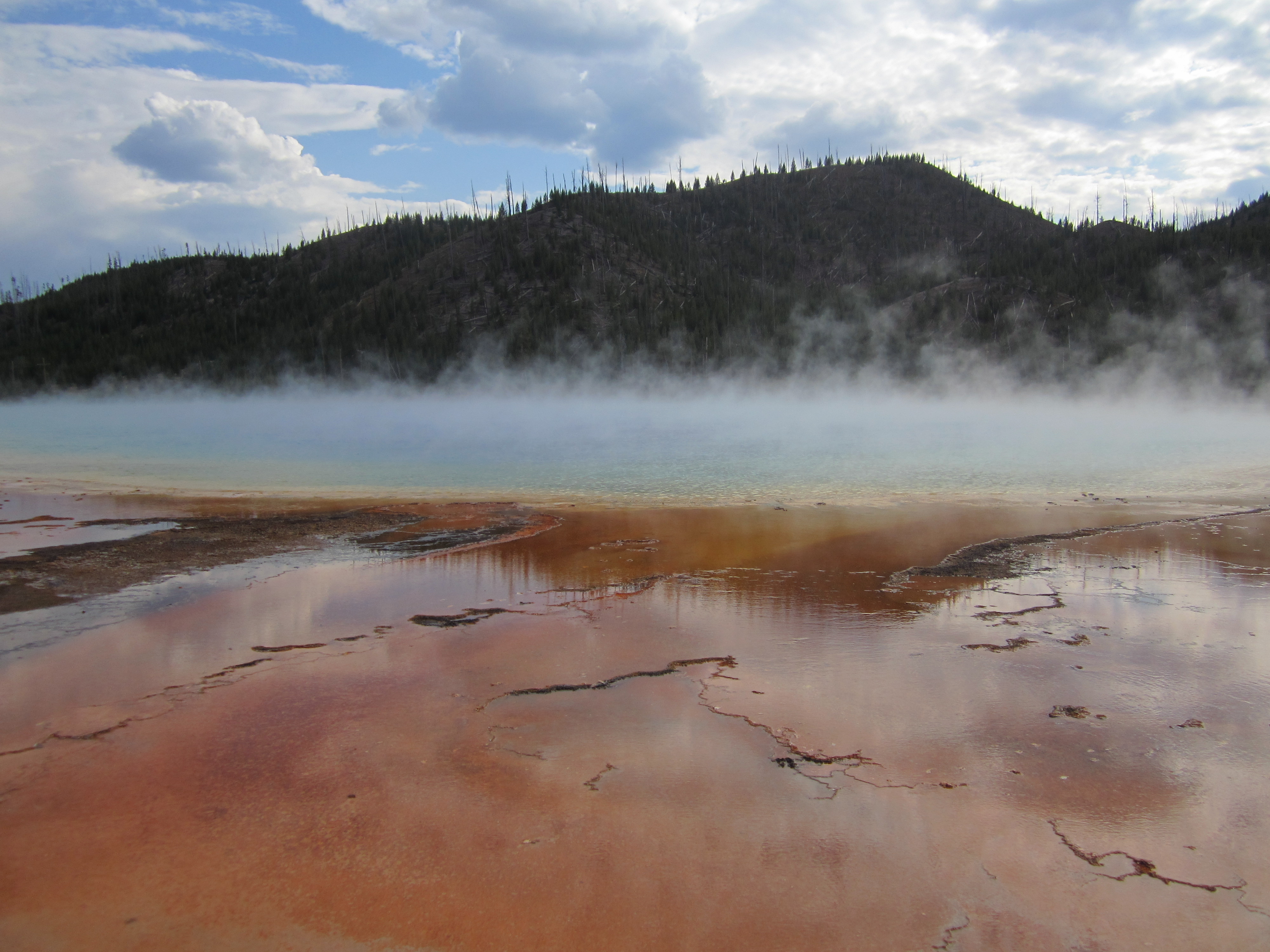 Our final stop of the day brought us to our new accommodations for the next couple nights, the Old Faithful Inn where I was sorry to see I did not have a dumpster waiting for me.  We checked in and I asked the couple behind us at the desk if they knew of any nice geysers around the Old Faithful Inn  since we had some time to kill before dinner……I don't think they understood English though because they just gave me a weird look.  I shrugged my shoulders and we decided to set off on our own and immediately came upon a group of people sitting around some geyser that I guess is pretty regular from what I hear.  We got to watch the geyser explode which was the perfect appetizer as we headed into dinner and eventually called it a night….after viewing Old Faithful one more time of course.